We love grilling, but we aren't too fond of the 4-6 hour cook time. Who has the patience, especially when you want barbeque ribs on the grill in the immediate future? While the idea of using foil on a grill can seem like an unlikely combo, it speeds things considerably.
In this article, we will show you how to cook ribs on a gas grill. Foil-wrapped ribs actually make some of the softest grilled meats ever, and they are so tender that they fall right off the bone. We will talk about cooking ribs on a gas grill, as well as how to cook ribs on a charcoal grill in foil.
Whether you want to learn how about grilling ribs in foil; whether they are baby back ribs, country-style ribs, and spare ribs. So if you want to know how to grill a rack of ribs in the least time possible, don't stop reading just yet!
You may also like: Why don't gas grills use lava rocks anymore?
Cooking Spare Ribs on the Grill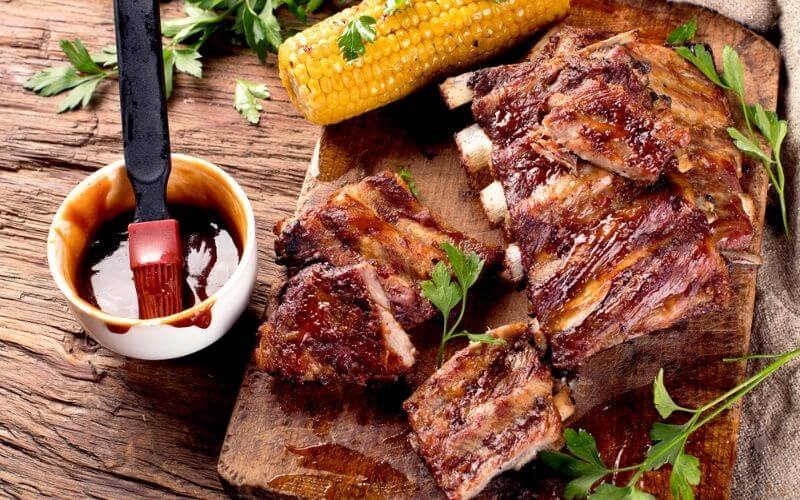 Want to learn how to BBQ ribs on the grill? You won't ever have to despair over grilling spare ribs with this recipe. You can have juicy, saucy BBQ ribs in no time at all!
What You Need:
4 pounds of spare pork ribs
2 teaspoons of spicy hot pepper sauce
2 tablespoons of marmalade or apricot jam
¾ cup BBQ sauce of your choice
Directions:
Heat your grill to medium-high heat.
Combine the barbecue sauce, marmalade/jam, and pepper sauce until blended.
Put half the ribs in a single layer in the center of a big sheet of heavy-duty foil. Bring up the long sides of foil. Then, seal the foil by double folding both short ends, which leaves the top open.
Add 1/4 cup water (or an ice cube) to the foil packet through the opening at the top. Next, double fold the top to close the packet, leaving space for internal heat circulation.
Repeat these steps with the remaining ribs.
Grill for 45 minutes to 1 hour or until the ribs are done. Remove ribs from foil packets and return them to the grill.
Brush the ribs with the barbecue sauce mixture. Grill for 15 more minutes, turning and brushing with the remaining sauce until the tender ribs on the grill are ready.
Grilling Baby Back Ribs in Foil
Grilled baby back ribs in foil are delicious and ready in time for lunch. They make for a great alternative to slow cooking ribs on a gas grill. For an excellent pork loin back ribs grill recipe, follow these steps:
What You Need:
Dry rub in seasoning ribs for grilling:
1 tablespoon salt
2 teaspoons paprika
2 teaspoons granulated garlic
2 teaspoons dried thyme or oregano
½ teaspoon freshly ground black pepper
Other ingredients:
2 racks of baby back ribs, 2 to 2½ pounds each
1 cup barbecue sauce of your choice
Directions:
Preheat the grill for direct cooking over medium heat (350° to 450°F).
In a small bowl, combine the dry rub spices and herbs.
Get rid of the membrane from the back of each rack of ribs. Chop each rack crossway in the center to create two smaller, more manageable racks.
Season each half rack heavily with the rub. Use eight 18-by-24-inch pieces of heavy-duty aluminum foil to double wrap each half rack in its own packet.
Place the ribs on the grill over direct heat and grill for 1 hour with the lid closed. From time to time, turn the packets over so they cook evenly, making sure not to stab the foil.
Remove the foil packs from the grill and let rest for about 10 minutes. Carefully remove the ribs, and discard the packets.
Once the wood starts to smoke, return the ribs to the grill, bone side down.
Grill over direct medium heat, with the lid closed for 10 to 12 minutes, until the ribs are sizzling and lightly charred; turning and brushing once or twice with the sauce. You are done cooking baby back ribs on the grill!
Remove the ribs from the grill and rest them for about 5 minutes. Slice the pork rib grill racks into individual ribs and serve warm with any remaining sauce.
Classic Country-Style Quick Ribs on the Grill
Don't have time for the 2–3-hour pork ribs grilling time? You can make country-style ribs in half the time with this recipe!
What You Need:
¼ cup cider vinegar
¼ cup hot pepper sauce
2 tablespoons Worcestershire sauce
½ cup of BBQ sauce
2 tablespoons prepared yellow mustard
4 pounds country-style pork ribs
1 tablespoon onion powder
1 tablespoon garlic powder
2 pounds of pork ribs
Directions:
Stir the barbeque sauce, cider vinegar, hot pepper sauce, Worcestershire sauce, and mustard together in a bowl until well combined.
Place the ribs in heavy-duty aluminum foil packets; pour the sauce mixture over ribs and coat completely.
Mix the onion powder and garlic powder together in a bowl. Sprinkle over the and let them marinate for 2 hours, turning once to make sure everything is well coated.
Preheat the grill for medium-low heat and lightly oil the grate.
Grill the ribs in foil on the top rack of the gas grill for an hour on medium-low.
After an hour, remove from the foil and baste the ribs with barbeque sauce and grill until the meat is tender, for an extra 15 minutes. Turn the ribs and keep basting with sauce until charred and glossy.
Some Great Tips for Grilling Ribs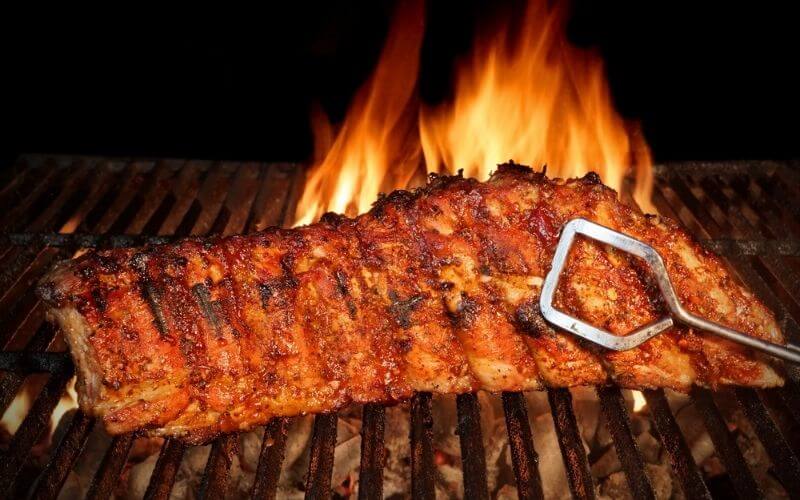 Modify store-bought sauces with added seasoning and jams for custom favors.
Be careful when using tongs to turn the foil packs so that they don't tear open.
Marinate your meat in a dry rub for a more intense taste.
Add brown sugar to give your ribs a glossy, caramelized finish and a more classic BBQ flavor profile.
Use hickory pellets for a good smoky flavor.
Don't grill on high, stick to medium-low temperature for the softest and most tender meat that slides off the bone.
Frequently Asked Questions
Below you'll find answers to questions we get asked the most about cooking ribs on the grill.
01. How Long Should I Grill Baby Back Ribs?
When wrapped in foil, ribs need an hour or an hour and 15 minutes to be cooked through. It can take over 2 hours when cooked in a more traditional recipe.
02. What Temperature is the Best to Grill Ribs?
For the best results, grill at 200F or medium-low so that the meat doesn't overcook and burn.
03. How Long Does It Take to Grill Spare Ribs?
The total cook time for ribs takes around an hour and a half. However, the exact time will depend on the temperature of your grill and the weight of your ribs.
04. How to Grill Ribs on Propane Grill?
To cook ribs on a propane grill, preheat the grill and place the foil-wrapped ribs on the grates and cook for an hour. Then remove from the foil, baste with sauce and cook for an extra 15-20 minutes, turning over to cook evenly.
To End
Grilling ribs is a hobby and cooking method all rolled into one. The process is a labor of love and requires time and patience that not everyone has. 
Knowing how to cook ribs on the gas grill in foil is a great alternative and makes for a quick, yet special meal. Now that you're all set on fast-track grilling, which one of these recipes will you try first?