The humble taco is not impressive or fancy, but they are satisfying, and everyone loves them. There are so many variations, you can never really get tired of the taco. You can load these bad boys with different fillings like guacamole, sour cream, shredded red cabbage, and of course, generously top them with shredded cheese.
Besides these scrumptious fillings, one of the key ingredients of a taco is the meat. You can opt for regular ground beef or pork. If you want some lean protein, you can go for shredded chicken or turkey. To make the best use of all the ingredients and minimize any food waste, it is imperative to know the appropriate amount of taco meat you will need. This article will guide you to assessing the right amount of taco meat it will require to feed whatever size crowd you're expecting.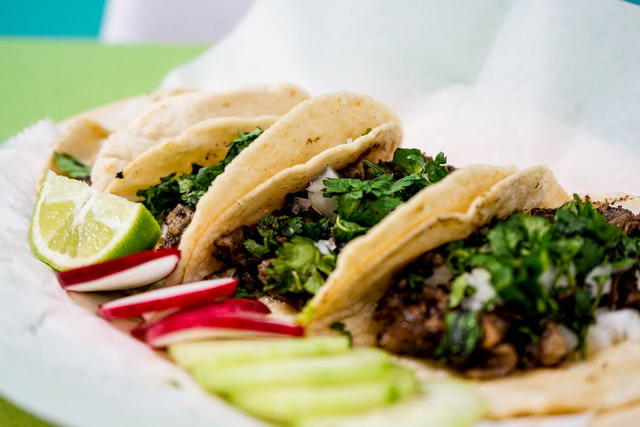 How to Calculate Taco Meat Per Person
For calculating the taco meat per person, it is best to take an average number of the mix of guests—grownups and children. With the right calculation, everyone gets treated with this delicious Mexican dish, and there is usually very little taco meat leftover, usually less than 15 percent. The general rule of thumb is that you need ¼ lbs or 5 ounces of taco meat per person for catering guests at any event.
How Much Taco Meat Per Person Is Required for a Tailgate Event?
You will need ½ pound of meat for each person at a tailgate party because the event will go longer than two hours. Moreover, in such gatherings, it is quite common for your guests to bring other people that you did not invite. Just to be on the safe side and make it a great tailgate party, it is best to also take account of additional participants that might show up. Plus, folks will often grab another taco during halftime.
This implies that tacos are the main dish. If you are also serving other tailgate dishes like sandwiches, then you can reduce the amount of taco meat accordingly. If you are not sure how much beef to buy, consider the following:
1 pound of flank steak can make around four servings of taco filling. People will consume two tacos every event, and 3-4 oz of cooked meat will be used in their corn tortillas and tacos. So each visitor will have four ounces of taco meat.
You can also use a taco bar calculator if you want to be sure about how much taco meat per person is required for each serving. You will simply need to enter a few details first like the type of meat you will use. You can also use the software to assess the number of other ingredients you will need like Monterey or Cheddar cheese, guacamole, sour cream, and so on.
How Many Pounds of Ground Beef Do You Need?
If you are using ground beef to make the mouthwatering tacos, you will need one-third of a pound, or about five ounces, for each person. This means that for 1 person, a little less than a single large juicy hamburger patty will be sufficient.
How Much Chicken Per Person Do You Need?
When it comes to delectable chicken tacos, using shredded chicken is the way to go. A single big chicken breast can be shredded and used to fill 12 tacos, yielding 1½ cups or 12 ounces of meat. If each guest munches on three of your yummy creations, that equates to around three ounces of shredded chicken per person.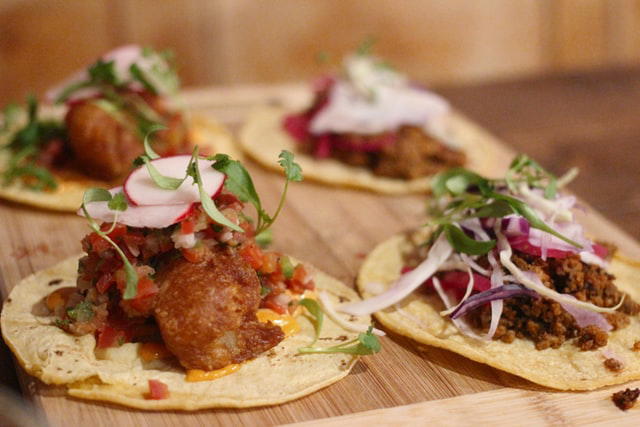 Exact Amount of Taco Meat Per Person for Different Crowd Sizes
If you are not sure about using a taco bar party calculator, the following information may help. Since different proteins have different masses, the weight will vary based on the type of meat. To make it easier for you to prepare the right amount of taco meat, here is a handy guide that shows the amount of popular taco meat you can serve to different sizes of a crowd.
Amount of Taco Meat Per Person for 10 Guests
If you are making tacos with ground beef, then you will need 3.1 pounds of meat to serve 10 people. For tacos made with shredded chicken or turkey, you will need 3.2 pounds.
Pounds of Taco Meat Per Person for a Party of 20 Guests
If you are going to use ground beef, you will need 6.2 pounds for catering a party of 20 people. When opting for shredded turkey or chicken, you will need 6.4 pounds.
Simply multiply the number of guests with a single serving of taco meat, and you will get the total amount of taco meat. By calculating accordingly, you can decide how much meat you will need to buy in bulk.
Try Out These Leftover Taco Meat Recipes
Sometimes you will have leftover taco meat. This means you were well prepared and met your guests' voracious appetites properly. Now you might be thinking about what to do with all this delicious protein. Taco meat is incredibly delicious, and you can whip up some new dishes with the leftovers. To help you get some inspiration, here are some leftover taco meat recipes you can try out.
Hearty Southwestern Frittata
You can make a hearty Southwestern frittata with the leftover taco meat. This dish is loaded with cheese, rice, potato, veggies, and of course, taco meat. The recipe is also very simple, and this dish can be served at any time for any meal. Simply beat the eggs in a bowl till they are light and frothy and then add the ingredients of your choice. Make sure you add appropriate seasonings like cumin, paprika, salt, and pepper. Then pour the mixture into an oven-safe skillet and bake in a preheated oven at 400°F for 15 minutes.
Instant Pot Taco Pasta
You can put the leftover taco meat to good use by making Instant Pot taco pasta with it. The recipe is quite easy, and all you need are the herbs and spices available in your pantry, your preferred type of pasta, and the remaining taco meat from last night. You need taco seasoning, beef broth, tomato sauce, Mexican cheese, and pasta shells. You can also use cilantro, black olives, and sour cream if you want. Simply dunk all the ingredients into the crockpot or Instant Pot, mix them properly, set the timer and temperature, and then let the appliance do its magic.
Taco Lasagna
Using leftover taco meat for lasagna is a great way to add a Mexican twist to this classic Italian dish. Instead of the pasta sheets, use tortillas to layer up the casserole. Loaded with meat, cheese, and beans, this dish is incredibly indulgent, making it the ultimate comfort food. You can also make this dish for any potluck dinner and wow your friends. It is super easy, and you can whip it up easily with ingredients you already have in your kitchen.
Taco Grilled Cheese
Are you looking for an easy yet incredibly delicious way to use up leftover taco meat? Taco grilled cheese is a great way to take this humble serving of meat to another level. Buttered bread toasted just right, filled with gooey cheese and spiced meat will give you an out-of-this-world experience. This simple yet sumptuous dish will surely bring a smile to your face and your tummy. To add more oomph, you can have it with a Mexican-styled tomato soup. Having this during the winters is an indulgent treat.
Final Words
When deciding to make tacos for a large part or a small event, it can be quite daunting to assess what amount of meat you need. For any taquero catering, it is vital to know the amount of taco meat required. Fortunately, understanding how much meat you will need is not that daunting when you follow the simple rule of thumb that you need about five ounces of meat per person. Have some faith in yourself—you got this!