Learn how many pounds of ground beef per person for tacos is necessary to feed a tailgate party of 30 or 50 people and how to make the most of your taco leftovers.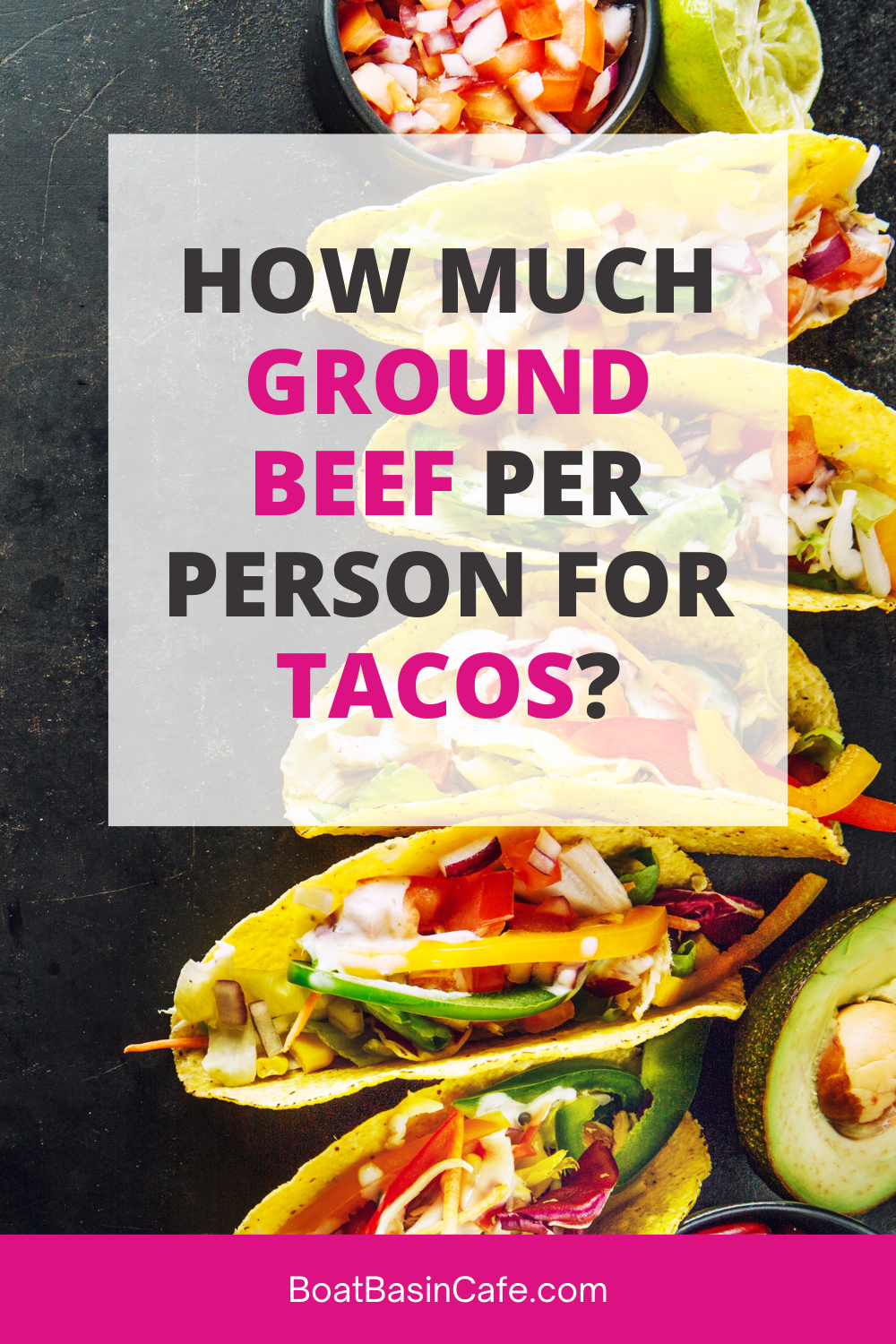 Are you planning to host a tailgate party?
Or, if you love Mexican cuisine, do you look for the slightest excuse to make tacos and feed a group of friends?
Whatever the excuse, the right amount of taco meat per person will keep all your guests happy.
It's not easy to plan how much meat per person for tacos as opinions vary on this topic, so let's get down to the meat of the matter.
How Many Tacos Per Person?
How many tacos is a serving is a common question that can come to your mind when planning a party.
If you are hosting a taco bar with sides like rice and refried beans, you should budget for two tacos per guest on average.
Besides the side dishes, your guests will also help themselves to different fillings for the tacos like tomatoes, cheese, sour cream, and onions, so it's okay to count two tacos per person.
However, if tacos are the main star of your party, then have at least two taco shells, rice, and one soft tortilla per person.
How Much Meat Per Person For Tacos?
| | |
| --- | --- |
| Type Of Meat | How Much Meat Per Person For Tacos (in ounces) |
| Hamburger | 5 |
| Ground beef | 6.5 |
| Pork | 7 |
| Chicken | 5.5 |
| Shrimp | 6.5 |
How much taco meat do you need per person?
It depends on the type of meat you want to fill the tacos with.
Chicken, ground beef, shrimp, pork (carnitas), and hamburger are the most popular meat choices for tacos.
Count the number of your guests to make a proper estimate of taco meat per person.
Then use a taco meat calculator to check how many ounces of meat per person for tacos you need.
Note: The calculator won't exactly match the recommended taco meat quantities by experts.
If you don't want to use the calculator, you can consider 4 ounces of meat per taco per person.
This equals half a cup or eight tablespoons of taco meat per taco shell.
But you might like to increase the taco meat per person amount to 5 oz if you're feeding an army of hungry teenagers.
On the other hand, if kids are going to come over to the party, they might have less of a single serving, that is, one taco per kid or at max one and a half.
So you might want to adjust the amount of taco meat accordingly.
How Much Meat Per Person For Tacos For A Tailgate Event?
How much taco meat should you buy for a large crowd?
Because a tailgate party typically lasts longer than two hours and frequently includes guests who weren't originally invited, you will need half a pound or 8 ounces of meat per participant.
At halftime, many frequently eat another taco.
However, you can reduce the quantity if you're also serving sandwiches or other tailgate dishes.
In any case, if you have leftover taco meat, there are methods to make ground beef last in the fridge.
How Many Pounds Of Ground Beef Per Person For Tacos?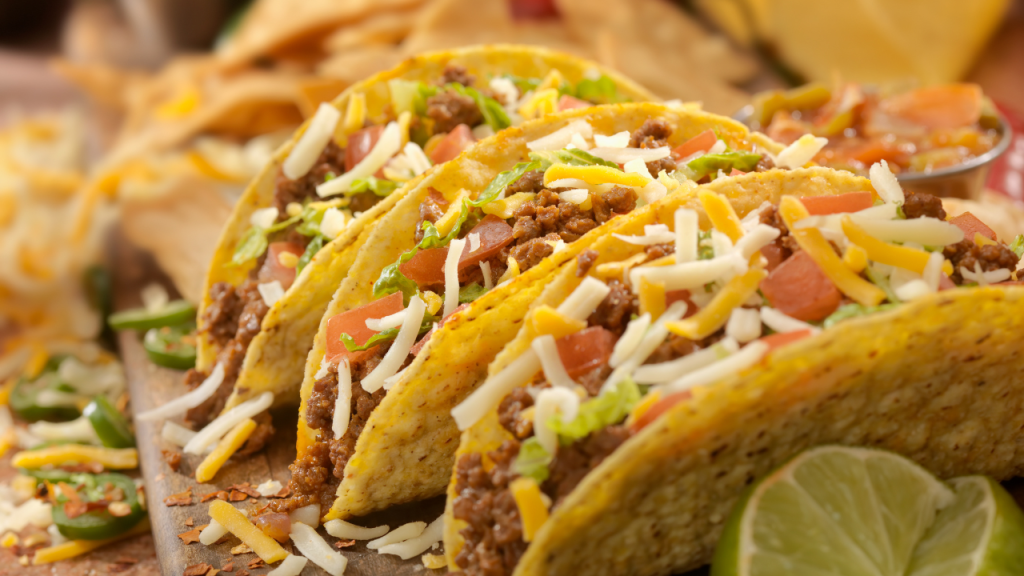 Since you have 16 ounces in a pound of ground beef and you need 4 ounces of meat per taco for every guest, you need half a pound of ground beef per person for tacos assuming everyone will help themselves to two tacos each.
Keep in mind that one pound (16 ounces) of 80/20 raw ground beef, pan-browned, and drained equals 12 ounces of cooked ground beef.
In effect, you have ¾th of a pound of ground beef as it loses weight and also shrinks when cooked.
You can make three tacos with 12 ounces of cooked ground beef.
Or, you can load up on healthy toppings like veggies and fruit and use 3 ounces of beef per taco to make four tacos from 12 ounces of beef.
How much taco meat you use depends on you.
Besides ground beef, you can also use meat like flank steak or shredded pork shoulder to make taco meat.
How Much Chicken Per Person For Tacos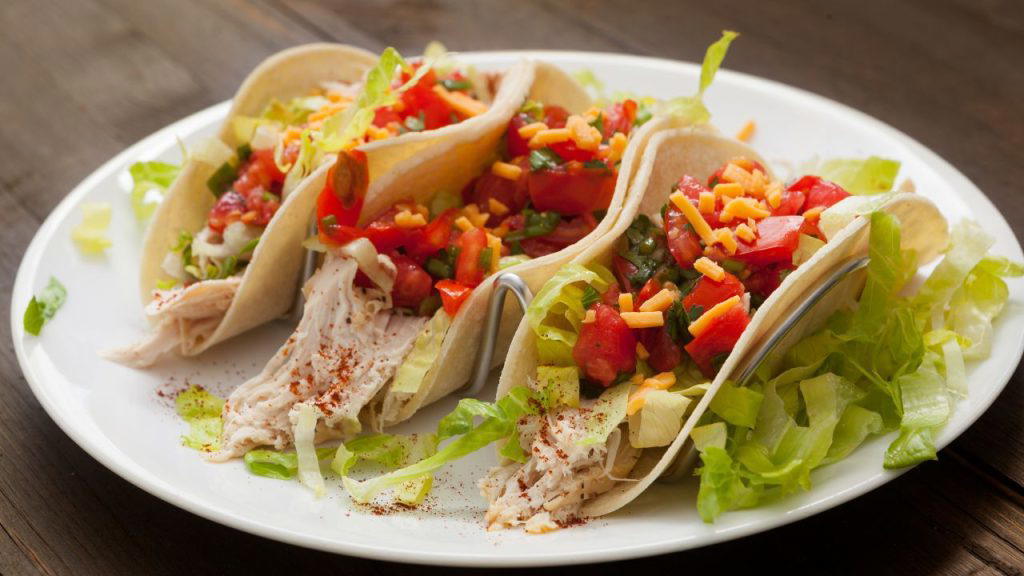 Although the taco bar calculator shows that you need 5.5 ounces of chicken per taco per person, you can actually use less.
4 ounces of cooked and shredded chicken will serve just as well.
Chicken by itself won't be as filling as when your favorite toppings are added.
Include several topping choices such as cheese like queso fresco or cheddar cheese, sour cream, and produce like diced onions, cabbages, jalapenos, diced tomatoes, guacamole, shredded lettuce, lime, cilantro, and others so that everyone can get the flavors they enjoy.
By the way, did you know that you can freeze queso fresco if you have excess leftovers of this cheese?
Don't forget to have enough dips and sauces like salsa and hot sauce to make the taco bar complete.
Some don't like it too hot so make sure you have medium heat sauces as well.
And don't worry if you have loads of salsa left over after the party because there are ways to freeze salsa too!
How Many Pounds Of Ground Beef Per Person For Walking Tacos Do I Need?
Walking Tacos, often known as "tacos in a bag," is one of those meals that both children and adults like.
They got their moniker because they are simple to "walk" around with while conversing at a taco bar or dining around a campfire, making little to no mess and requiring no plates.
They taste wonderful with Doritos or ordinary tortilla chips, but you can also eat taco meat piled in a bag of Fritos chips.
To make walking tacos, you need half a pound of lean ground beef per person. Or, half the number of people, but in pounds of ground beef.
Besides that, you need taco seasoning, bags of corn tortillas, cheese, salsa, and other ingredients.
Let's talk a bit about taco seasoning here.
Refrain from buying pre-seasoned mixes from the store as they contain excess sodium which is not healthy for you.
A homemade seasoning mix is much healthier as you can use ingredients that are probably in your kitchen already – salt, garlic powder, onion powder, chili powder, and cumin.
How Much Ground Beef For Tacos For 30 or 50?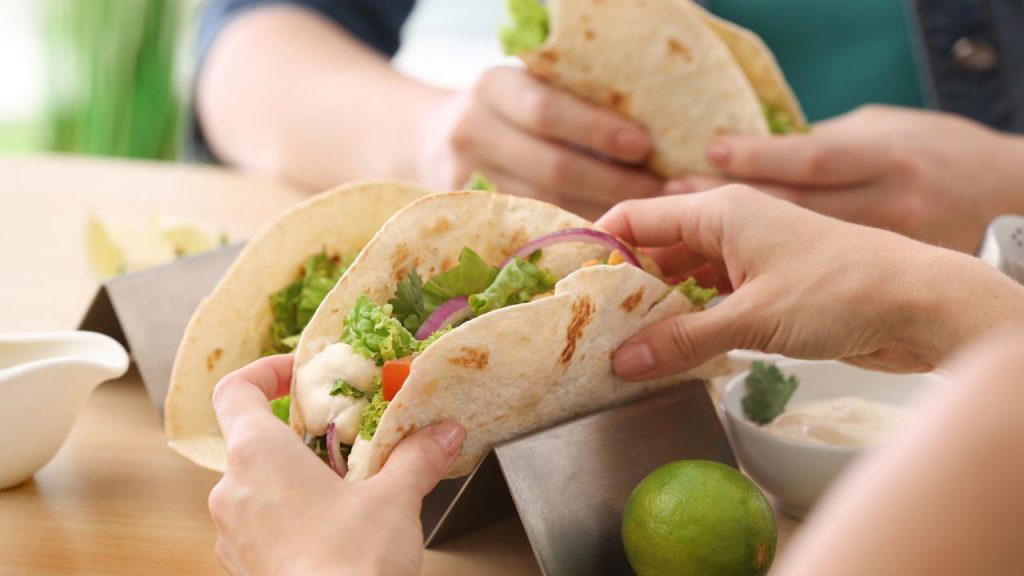 If you're planning a small wedding reception or a birthday party for 30 people, it's easy to calculate how much ground beef per person for tacos you need.
Simply divide 30 by 2 – which comes out to be 15 pounds of ground beef.
And if you're serving 50 guests, simply half that and you'll need 25 pounds of ground beef.
How Many Pounds Of Hamburger Per Person For Tacos?
| | |
| --- | --- |
| 5 guests | 2.8 |
| 10 guests | 5.7 |
| 20 guests | 11.4 |
| 30 guests | 17 |
| 50 guests | 28.5 |
| 100 guests | 57 |
14 ounces of cooked meat will be produced from a pound (16 oz) of hamburger meat and it takes 4 ounces of beef for each taco.
Therefore, 3 ½ tacos can be made with one pound of cooked and drained hamburger meat.
The required number of tacos is determined by multiplying the number of guests by two tacos per person.
For example, to figure out how much taco meat per person you need for a party of 10 guests, simply double it to get 20 tacos.
From a pound of hamburger meat, you get 3 ½ tacos, so for 20 tacos you need 5 lb 11 oz of taco meat.
Street Tacos Recipe Ground Beef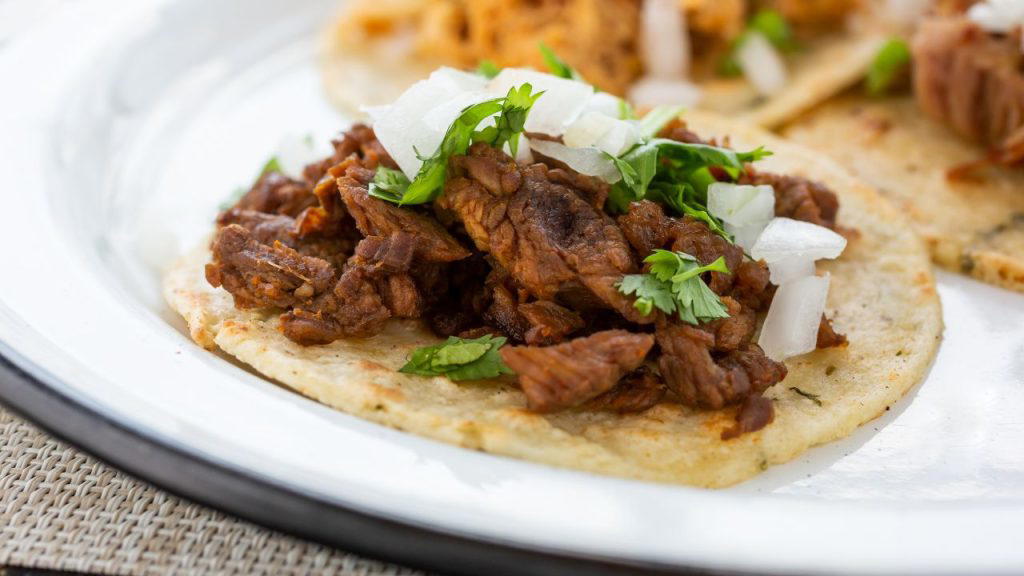 Typical street tacos are smaller in size and served on corn tortillas with basic toppings such as salsa, cilantro, onion, and lime juice.
These juicy tacos come in various types:
Carnitas: slow-cooked, spiced pork in lard or oil
Carne asada: Grilled beef marinated in citrus juice and other spices
Barbaco: seasoned, slowly cooked meat, lamb, or goat
Al pastor: rotisserie-styled pork with a pineapple and chili marinade
Chorizo: Mexican-style ground pork sausage.
de Camarón: pan-seared, spiced shrimp
Ground beef street tacos are a favorite among taco lovers.
Here's a recipe for a simple and easy street taco.
Ingredients:
1 ½ pounds ground beef
8 pieces of corn tortillas
Grab any taco seasoning or make your own with salt, chili powder, garlic powder, onion powder, and cumin.
For toppings, choose lime juice, sliced cherry tomatoes, diced red onions, shredded cheese, and cilantro.
Cooking Method:
Cook spices and ground beef until the meat is no longer pink and put aside.
Warm tortilla shells in a skillet over medium-high heat for 30 to 45 seconds on each side, or in an oven at 300°F (150°C) for 7 minutes.
Add the ground beef mixture to the tortillas.
Include chopped cilantro, cherry tomatoes, grated cheese, and onion slices.
Add some freshly squeezed lime juice.
Add some fresh salsa, avocado, or pico de gallo on top.
That simple!
Top Ideas To Repurpose Taco Leftovers
It's always better to have leftovers than not to have enough food to make your guests fully satisfied.
There are many ways you can repurpose taco leftovers. Make a taco pizza or taquitos or quesadillas.
In fact, you can make a lasagna too with the leftover taco meat.
If this sounds too much work for you, just make a taco salad with shredded lettuce, diced onions, or anything else you have on hand, and top off with crumbled Doritos.
How To Freeze Taco Meat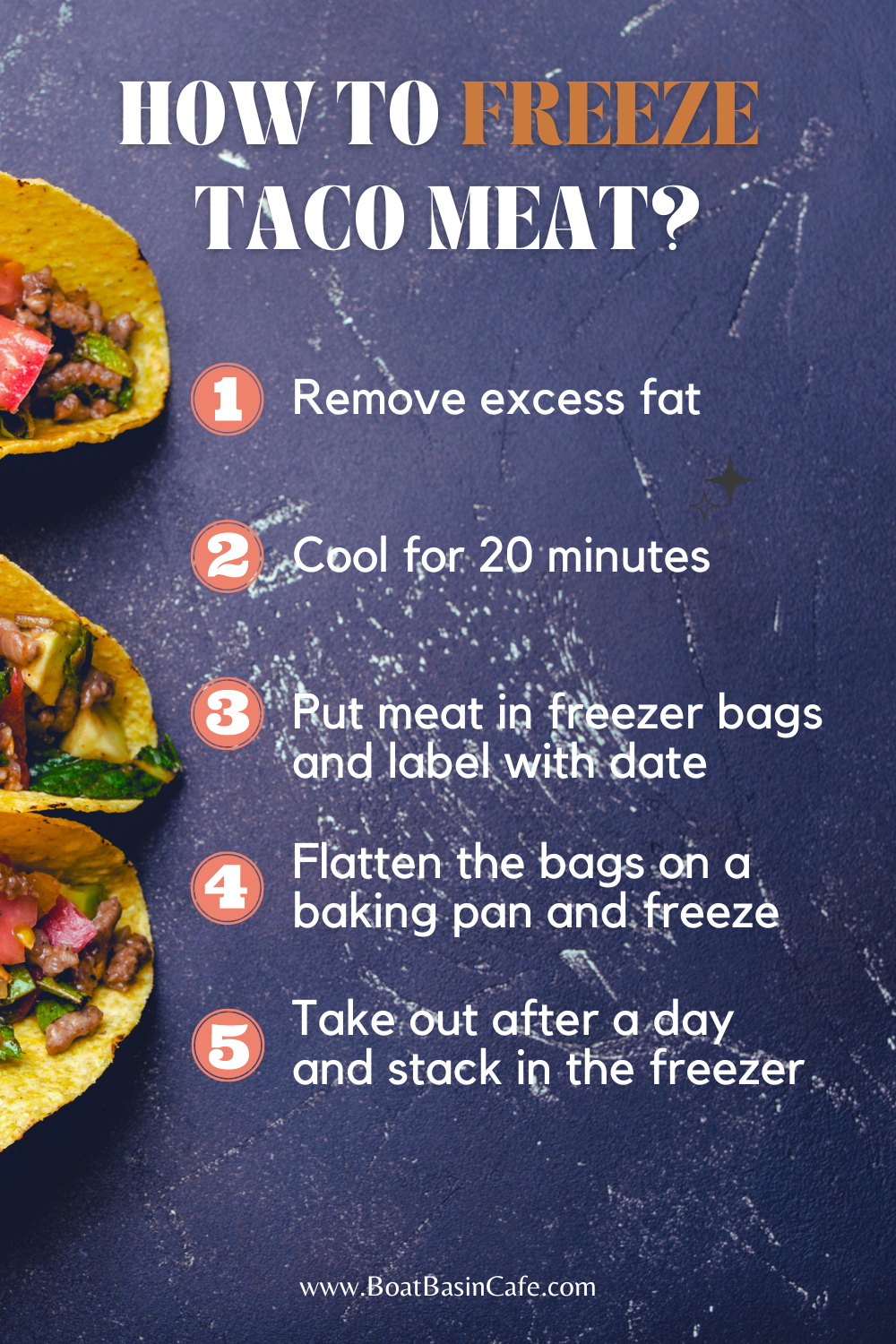 Follow these steps to freeze leftover taco meat.
Remove any extra fat.
Let the cooked meat cool for 20 minutes.
Place taco meat in zip-lock bags.
Give freezer bags a label and a date.
On a baking tray, flatten the bags and freeze.
After 24 hours, take out the pan and arrange your taco meat bags in a tidy stack in the freezer.
The taco meat will stay fresh for up to 6 months in the freezer.
Ingredients To Avoid To Make Your Tacos Healthier
Let's face it – ladles of dips and sauces, pork cooked in lard, and heavy toppings like sour cream or mayonnaise are good only occasionally.
Although you can swap red meat with white meat like shredded turkey or chicken or even fish, store-bought seasonings and sauces do have preservatives and loads of salt and sugar which won't do you any good in the long run.
Opt for a homemade taco seasoning mix instead, so, here's a list of ten ingredients you can avoid:
Sugar-sweetened salsas
Mayonnaise-based sauces
Refried beans made with lard
Fried shells, like hard shell tacos, corn tortillas, or frybread
Fried avocado
Fried meats and seafood
Fried vegetables
Sour cream
Cheese or queso sauce
Crema
Instead of these ingredients, focus more on vegetables and plant-based ingredients to fill your tacos with nutrients and flavor.
Here are some ideas to get you started:
Corn
Black beans
Pinto beans
Potato
Tempeh (fermented soybeans)
Cauliflower
Tofu
Mushroom
FAQs
How Much Meat Do I Need For Tacos For 10 People?
If you want to serve two tacos to each guest, then you need half the number of people in pounds of meat. For 10 people, it would be 5 pounds.
How Much Meat Do You Need For One Taco?
You need 4 ounces of meat for one taco.
How Many People Will 1 Pound Of Ground Beef Tacos Feed?
1 pound or 16 ounces of ground beef will feed 2 people if each one gets two tacos and each taco has 4 ounces of beef. 
How Much Beef Do I Need For 6 Tacos?
You need 24 ounces or a pound and a half of beef for 6 tacos.
How Much Is A Serving Of Tacos?
2 tacos make a serving if you are also serving side dishes like beans, rice, quesadilla, and others.