Find out what green tea shots are, how to make them, the ingredients and equipment you can sub to make this summer fresh cocktail, and how to serve them chilled.
Green tea shots – these pale yellowish-green cocktail shots will surprise you in many ways. And if you're like me, you wouldn't mind trying this refreshing little drink. But first a little trivia – do you know why cocktails are called 'cocktails'? And more interesting, did you know who invented green tea shots? The Jameson Whiskey Company created the Green Tea Shot. Now that's a hint! Let's unwrap the whole story about Jameson green tea shot.
What Is A Green Tea Shot?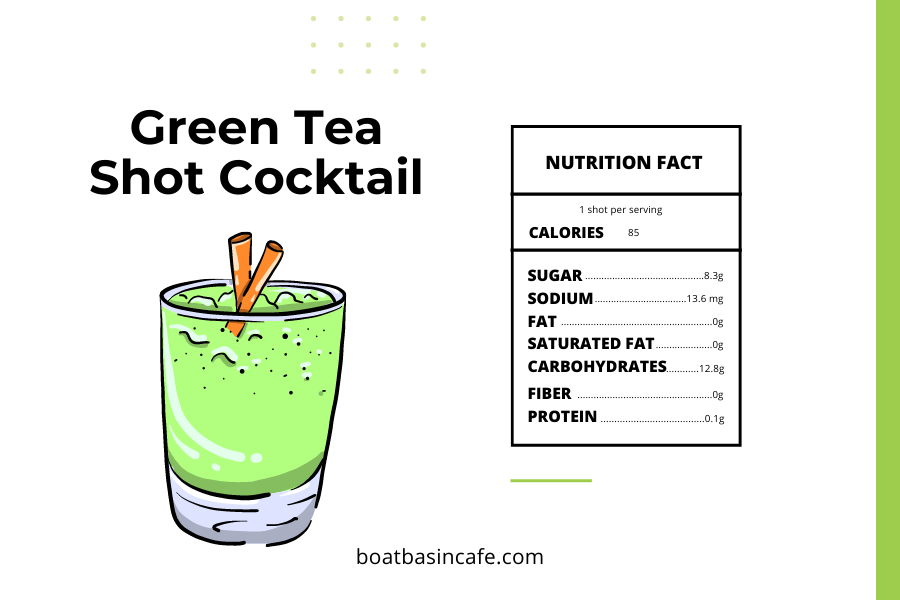 It's a whiskey-based cocktail shot served in a shot glass. It's also referred to as Jameson green tea. It consists of a few simple ingredients and is very easy to make. It doesn't take long to make a single shot of green tea or a whole pitcher. This is the perfect accompaniment to food for a party when you want to shake things up.
What Do Green Tea Shots Taste Like?
They taste cool and refreshing. The bubbly drink smells and tastes peachy and fruity while the whiskey in it lends a slightly strong taste. You also get some sourness from the lime and lemon sour mix and a dash of sweetness from the soda. Overall, this cocktail tickles your taste buds and leaves you with a refreshing aftertaste.
How Are Green Tea Shots Made? Classic Green Tea Shot Recipe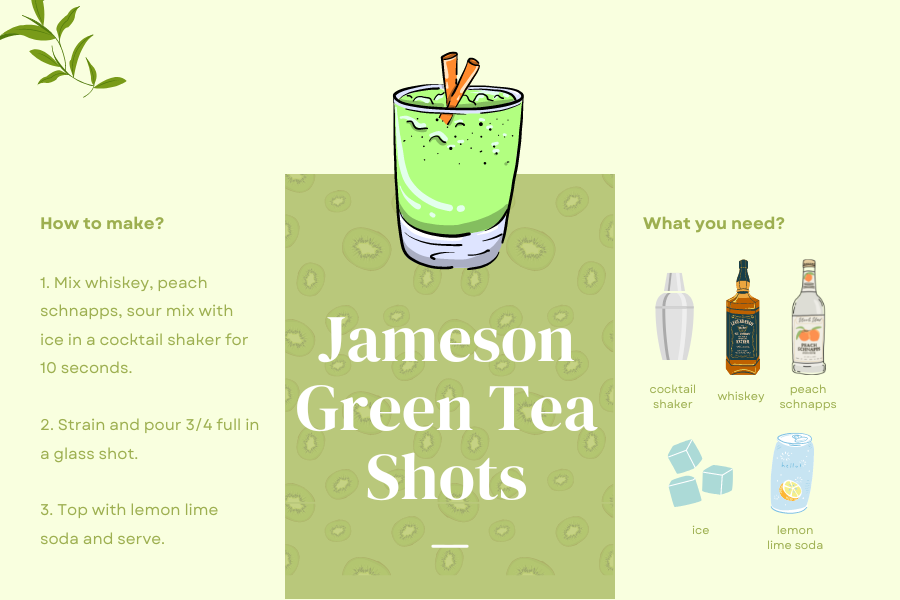 Okay, let's not keep you in the dark anymore and find out what's in a Jameson green tea shot. Read on to find out what are green tea shots made of.
To make two shots, the ingredients are:
1 ounce or 15 milliliters of Jameson Irish Whiskey. Try to use this whiskey as after all, it comes from the house that created this cocktail shot.
1 ounce or 15 milliliters of Peach Schnapps like this. Peach schnapps adds some sweetness and fruitiness to keep things summer fresh.
1 ounce of Sour mix like this one to make the cocktail have layers of lime and lemony flavor and taste. The sour mix contains equal ratios of lime and lemon juice and syrup is added to it to tone down the sourness.
A splash of lemonade or lemon-lime soda like Sprite helps to add some sweetness with a zesty flavor. The bubbles from the soda make the Jameson green tea shot wonderfully tingling.
2-4 Ice cubes because you can't have a summer cocktail without enough ice, ice baby!
It's important to know how many ml in a shot if you're planning to make green tea shots for a large group of people.
The things you need are as follows:
Cocktail shaker that you can order online
Bar strainer that's available in any online store
Shot glasses like these
And finally, the steps:
01 With a few ice cubes shake vigorously the whiskey, peach schnapps, and sour mix in a cocktail shaker.
02 Shake the contents together for around 10 seconds.
03 Using the bar strainer to prevent ice from dropping in, fill your shot glasses with the green tea shot mixture to about 3/4 of the way full.
04 Add a splash of lemon lime soda to the top of each shot.
Wondering where the green tea shot got its name from? Even though the cocktail doesn't contain any green tea, it's called so because of its greenish color that resembles brewed green tea.
How To Make Your Own Sweet And Sour Mix
If you don't want to buy a sweet and sour mix from a liquor store, it's a breeze to make it yourself. Here's what you need to do.
01 Put 3 tablespoons sugar and ¼ cup water in a saucepan and simmer on a low flame until the sugar has dissolved completely.
02 Put it aside to come down to room temperature.
03 Take ¼ cup fresh lime juice and ¼ cup freshly squeezed lemon juice – both without pulp and strained – and add a pinch of salt.
04 Mix the sugar syrup with the lime and lemon juice concentrate.
05 Refrigerate the sour mix in a mason jar. It will stay for up to 10 days.
Green Shots: The Vodka Version
The green shot is a close cousin of the white tea shot. The only difference in the ingredients is that the white tea shot uses vodka instead of whiskey. Therefore, instead of the pale greenish-yellow color from which it has its name, you get a white tea shot.
To make a white tea shot, add 1 ounce of vodka, 1 ounce of peach schnapps, ½ ounce of lemon juice, 1/2 ounce of simple syrup, and ice to a cocktail shaker. Shake for 5 to 10 seconds until chilled. The white tea shot resembles foggy tap water once it has been strained and placed in a shot glass. It resembles the kamikaze shooter, which also uses vodka.
How To Make A Green Tea Shot Without Alcohol
Sometimes, many of us would like to try green shots without alcohol due to health or religious reasons.
In that case, all you need to do is replace the whiskey or vodka with 1 ounce of fresh lime juice for every two shots. Or make it ½ ounce if you're making a single shot for yourself. Of course, it won't resemble the classic green tea shot, but you'll still get a summer cocktail's peachy, zesty, and fresh tones.
Other variations of the green tea mocktail include using green tea or coconut water. This way, you get a healthy beverage.
How To Make A Green Tea Shot Cocktail
Want to take things slow and sip a green tea shot instead of downing it in one go? Just turn it into a cocktail by simply mixing the ingredients in a cocktail shaker for a few seconds longer. Then pour the green tea shot into a martini glass or a tall glass with ice cubes and add a splash of lemon lime soda on top to convert it into a green cocktail. You may want to add more ice so that the cocktail doesn't become warm while you're taking your time sipping it.
The ice will make the cocktail not as strong as its concentrated form and easier to sip. For a stiffer drink, simply double the ingredients.
Tips For The Best Green Tea Shot Recipe
Follow these tips for best green tea shot recipe.
01 Refrigerate the ingredients (lemon lime soda, whiskey peach schnapps, and sweet and sour mix) beforehand or chill each shot glass for 20 minutes before you mix the cocktail so that it stays cold when served.
02 Use a sugar-free or diet lemonade or lemon soda if you are watching your weight.
03 Use whiskey, peach schnapps, and sour mix in a 1:1:1 ratio.
Subs For Green Tea Shot Ingredients And Equipment
If you don't have the ingredients for the classic green tea shooter recipe at hand or in the store, use substitutes to come as close to the real thing as possible. Here's a list of the subs of both ingredients and equipment you can work with.
01 Instead of Jameson Irish whiskey, you can use American or Japanese, or Canadian whiskey.
02 Use a mason jar or a large glass with a lid if you don't have a cocktail shaker.
03 Instead of a store-bought sour mix, you can make your own.
04 Replace peach schnapps with other variations like strawberry schnapps.
Garnish Suggestions
To set off the pale green-yellowish green shot in the best light, use the following garnish to make each glass stand out in the crowd.
Lime wedge
Zest of lime or lemon
Cucumber slice
Tangerine wedge
Mint leaves with stalk
FAQs
What Is A Green Tea Shot Made Of?
A green tea shot is made of Jameson whiskey, peach schnapps, sour mix, lemon-lime soda, and ice. 
Do Green Tea Shots Get You Drunk?
Is green tea shot strong to get you drunk? For most people, just one ounce or 2 tablespoons of alcohol doesn't really make them drunk. And in a green tea shot, there is even less alcohol – just ½ ounce or a tablespoon. 
Do Green Tea Shots Have Caffeine?
No, green tea shots don't have caffeine. 
Are Green Tea Shots Gluten Free?
All the ingredients of a green tea shot are gluten-free. However, the store-bought sour mix may contain gluten so check the label before buying or make your own sour mix. 
Why Are Green Tea Shots So Good?
Green tea shots are so good because they combine the power of whiskey with sugary fruitiness from peach schnapps and the sour taste and zesty flavor of the lemony lime soda. It's not too overpowering and the fresh fruitiness makes the green tea shot bubbly and refreshing.