Whether you're new to grilling or looking for better grills, you're probably wondering: is a Dyna Glo Grill the answer to fast and reliable grilling? See for yourself by reading our Dyna Glo Grill reviews!
Quick Guide to Dyna Glo Grills
Dyna Glo boasts more than a hundred years of existence, so you're bound to hear about it. They specialize in grills and smokers of different functions and sizes, offering five natural gas grills, 13 propane gas grills, 12 charcoal grill options, and 26 smokers.
Each model targets different customers to answer their grilling needs and ensure enjoyable grilling sessions. For example, some grills cater to those with small spaces while others suit bigger parties.
Additionally, their different grill models can solve problems like the need for bigger cooking space, an option to simultaneously cook multiple types of meat, a durable design, and an easier cooking option.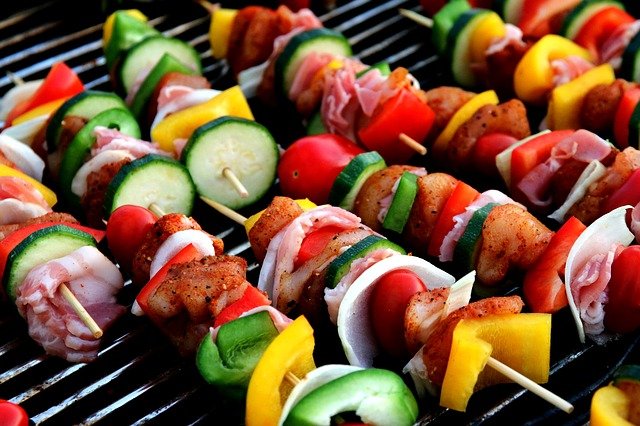 Popular Features of Dyna Glo Grills
To get to know Dyna Glo grills better and see if they can cater to your grilling needs, let's review some of their popular features. Note that we're not the only ones gushing about these features – plenty of other Dyna Glo users love them, too!
Versatile Cooking Capacity
If you love charcoal grills, you've likely experienced some annoying problems like running out of fuel quicker than you can cook your meat or using up so much charcoal just to grill. 
And if you feel hopeless and think there's no solution to this, think again. Dyna Glo solves this issue by designing their charcoal grills with a patented smoke-reducing technology, which allows you to grill more food with less charcoal. 
Moreover, their grills always feature cast-iron grates that maximize cooking space so that you can cook everything just right. Some of their models have two side tables, too, which lets you store food or utensils while you're cooking or eating.
Variable Sizes
As mentioned before, Dyna Glo grills don't follow one size: they come in different sizes. So, if you have a small backyard, you can opt for their Vertical Offset Charcoal Grill or Smart Spacer Living Gas Grill.
And if you have plenty of space, feel free to choose any of their other models.
Large Grilling Area
You don't have to worry about running out of space – Dyna Glo grills feature large cooking areas, so you don't have to cook your meat in batches. Models like the DGN576DNC-D Premium Grill cater to large groups with a grilling area of 816 square inches, while models like Dual Zone Charcoal Grill boast removable walls to enhance your grilling spot.
Two Grill Types
Some people stick to a propane gas grill, while others prefer a charcoal grill. Dyna Glo manufactures both types, so you can easily choose between their grill models.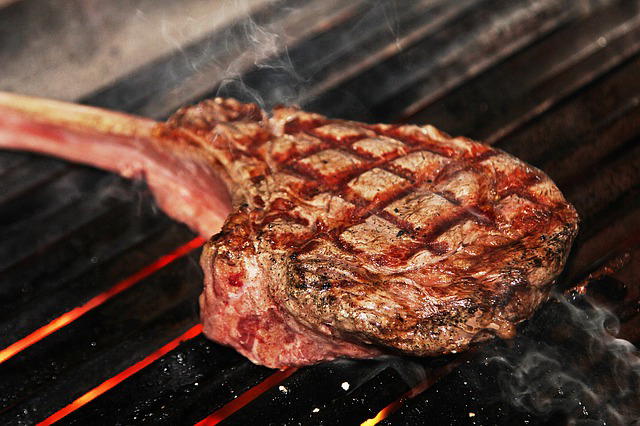 Top Dyna-Glo Grills
Now that you understand a little more about why Dyna Glo Grills are popular, it's time to explore their five best charcoal and gas grills.
We hope reading our Dyno Glo Grill reviews helps you decide if one of them could work as the best grill for you!
Before we continue, here are some quick specifications about the products we'll talk about in our Dyna Glo Grill review:
| | | | |
| --- | --- | --- | --- |
| Product | Dimensions (inches) | Weight | Grilling Area (sq. inch) |
| Dyna Glo Signature Series Vertical Charcoal Smoker & Grill | 45.5 x 24.9 x 58.8 | 124.3 pounds | 1382 |
| Dyna Glo Charcoal Offset Smoker | 20.2 x 34.52 x 47.03 | 57 pounds | 784 |
| Dyna Glo Dual Fuel Grill | 68.45 x 45.63 x 28.67 | 48 pounds | 952 |
| Dyna Glo Smart 3-Burner LP Gas Grill | 22.82 x 49.14 x 45.05 | 76 pounds | 507 |
| Dyna-Glo DGE Series Propane Grill | 22.62 x 50.7 x 46.8 | 96 pounds | 646 |
With Vertical Charcoal Smoker and Grill, you can get the best of three worlds: a griller, a smoker, and the ability to cook for and entertain different family members' taste buds.
It features five racks and several hooks so you can grill veggies, patties, steak, chicken pieces, and sausages simultaneously. And if you ever get bored of grilling and want a smokier taste for your meal, you can use this griller as a smoker instead.
Best of all, you can easily clean Dyna Glo's Vertical Charcoal Grill after each use. It has a cool-touch handle so you can take food out with ease and an ashtray that can effortlessly be removed.
It also comes with a temperature gauge to help you get your ideal heat level right.
Pros
You can easily clean it.
You can cook a large amount of food in one go.
You can take out trays faster through its cool-touch handles.
You can relax while it guarantees even heat distribution through its vertical design.
You can use its offset charcoal container as a grill for a small amount of meat.
Cons
You can't adjust its racks.
You can't close its door as well as you should.
It's technically a smoker instead of a charcoal or propane gas grill, but we need to tell you about this model. It's pretty similar to Dyna's vertical smoker and griller, except it has six adjustable shelf racks and a door that can close better than the other model.
Its 784 square inches of smoking space lets you cook up to 100 pounds of food, and its adjustable grill grates allow you to cook your meals exactly how you want them. Likewise, its smoker box beside the grilling area ensures that your meal is not overpowered with smokiness.
Along with that, its combination of adjustable smokestack and side tamper is marvelous at spreading even heat. They also significantly stimulate the airflow so that the ingredients inside don't dampen.
Best of all, Dyna's Vertical Smoker has a temperature gauge clearly labeled numbers. It's easy to read and automatically alters the smoker's dial to maintain the correct temperature inside the container.
However, its metal door is relatively thin, so it easily lets heat escape back into the air. To prevent this, place as much charcoal needed first instead of stacking up as you keep grilling. You can also attach a gasket material on the sides of the door to trap more heat.
Pros
You can adjust its grill plates.
You can cook different meat sizes in one go.
You can have a smoker at a budget-friendly price.
You can have perfect smoke consistency in your meals.
You can enjoy even heat distribution with its vertical design.
Cons
You may find it hard to maintain its temperature.
If you're looking for a classic yet stylish and durable grill, try Dyna Glo's Dual Fuel Grill. It features a modern matte black finish, various dials and handles, and a design that's built to last.
Moreover, it comes with 952 square inches of grilling area and stainless steel burners that give 24000 BTUs of even heat distribution. So, you can cook plenty and rest assured that everything will cook evenly.
And if that wasn't enough, Dyna Glo's dual charcoal or gas grill also comes with a crank and quick-start ignite button alongside temperature control settings. The crank allows you to modify your charcoal box's height, and when used with the buttons and settings, you're granted ultimate temperature control.
Best of all, this dual grill has storage space for towels and utensils while you're grilling, which you can easily fold and unfold as needed. It also features a drip pan so you can quickly clean up and porcelain-enameled cast-iron cooking grates to retain your meal's juices better.
Pros
You can easily clean it.
You can use charcoal or gas.
You can guarantee juicier meals.
You can cook a large batch of food.
You can adjust its temperature settings.
You can store utensils and towels on its side.
Cons
You may find it hard to assemble.
Dyna Glo's Liquid Propane Gas Grill is heaven-sent to anyone with a small backyard. It boasts a convenient size of 22.82 x 49.14 x 45.05 inches, 507 square inches of total cooking space, and a porcelain-enameled layer on its cooking grates.
Moreover, Dyna's liquid propane gas grill features three dials to adjust its heat levels and a gauge to help you observe its temperature. It also has collapsible side tables for your utensils and towels.
However, note that some Dyna Glo grill reviews of this model complained about the material on the grates coming off after a few years. To avoid this, you'll need to take good care of the grill and clean it often.
Then again, even without cleaning it often, it'll last in good condition for three years or so.
Pros
You can enjoy a decent cooking area.
You can adjust its temperatures.
You can fold its side trays to make it even more compact.
You can use its collapsible side tables for towels and utensils.
Cons
You may find that it feels flimsy.
You may end up with chipped-off parts if you don't care for them properly.
DGE Series Propane Gas Grill works best for people who can't be bothered to deal with a traditional charcoal grill. It's modern, durable, and bulky yet easily movable.
It features primarily stainless steel material, heat tents, and cooking grates with a touch of iron core for ultimate heat retention. It also has two side trays for plates and other things, and its burner doors can easily be removed with the help of ergonomic handles.
Moreover, Dyna's DGE Propane Gas Grill has 646 square inches of cooking space, so it's enough to satisfy a group. Dyna Glo says this propane gas grill can cook 24 hamburgers at once, but be warned that they meant small hamburgers and not the big ones – it can only hold 18 large burgers.
DGE Propane Gas Grill weighs 96 pounds, too, but conveniently has wheels for easy mobility.
Pros
You can ensure its cooking grates retain heat well.
You can use its automated settings to suit your needs.
You can enjoy easy mobility and quick cleaning sessions.
You can combine its primary and secondary cooking area for a bigger grilling space.
Cons
You can't fit 24 large hamburgers.
You may find that DGE LP Gas Grills are slower than other Dyna Glo grills.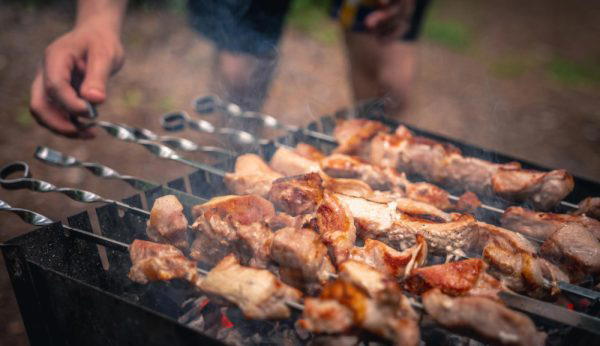 FAQs
How do I remove the charcoal?
The best way to remove the charcoal is to let it burn to ash completely and then slide out the ash collection tray from below. All Dyna Glo ash collectors have an ergonomic handle, so you can easily access them without burning your hands or getting dirt all over you.
Can I use wood chips in my Dyna Glo Grill?
If you want a smoky flavor and smell on your food, throw in some wood chips. And for better results, let the chips soak in water for about an hour or so before doing this.
Which is better: Nexgrill or Dyna Glo?
Although Dyna Glo and Nexgrill have been close competitors, their strategies for impressing customers have differed. While Nexgrill focuses more on design and contemporary features, Dyna Glo sticks to the basic functionalities at a moderate price.
However, both essentially provide the average customer with similar features, so it's up to you to decide which features suit you better.
How to clean Dyna Glo Grills?
Let the cooking grates burn for a few minutes before cleaning them. This "burn-off" method helps ease the gunk and makes the entire process faster. Once done, use a grill brush to clean the leftover dirt.
And for the other grill parts, use soapy water and a sponge to clean them, and then rinse them off with hot water to get rid of any bacteria. Of course, remember to have the grill cool down before cleaning the rest of the parts.
Bottom Line
We think that given their features and offerings, Dyno Glo Grills are one of the best gas grills in the market, and they're the answer to fast and reliable grilling. However, the final decision is still up to you: do any of their products suit your needs?
So, if you need a grill so you can cook different meat types, Dyna's Vertical Grill & Smoker or Offset Smoker will make life easy for you. Meanwhile, you can opt for the Dual Fuel Grill if you need more versatility.
On the other hand, if you lack backyard space, the Smart Living model will work well for you. And if you're tired of charcoal grills and simply want something convenient, DGE Propane Gas Grill is your best bet.