If you've decided to curb your Starbucks by making coffee at home, chances are you've invested in some sort of coffee maker, like an espresso machine or French press. You've bought high-quality coffee beans and an assortment of syrups and sauces.
But the one thing we tend to overlook is the humble coffee grinder. While this is a less glamorous aspect of coffee making, it is a crucial step for perfectly brewed coffee. And while noisy, this stage is what infuses your home with that lovely roasted coffee bean smell we know and adore.
There are loads of great coffee grinders out there for novice brewers, so there's a good chance you'll be spoiled for choice. Instead, why not have a look at a pair of grinders that are quite popular among home baristas?
This article will give you the ultimate Baratza Encore vs Capresso Infinity, so you can figure out which one will work best for you. We'll be taking a look at each of the coffee grinders first, before comparing their features.
So, without further ado, let's find out which device packs the greatest grind.
The Baratza Encore in a Nutshell
The Baratza Encore conical burr coffee grinder is a small and compact coffee bean grinder meant for home use. It is the perfect tool for those who just want a uniform grind and quality coffee without shelling out the big bucks.
Baratza specializes in making coffee grinders and is known for next-level customer service. Don't believe it? You can easily get a Baratza encore burr replacement, and even refurbish your old unit with their repair program.
Besides this, the Baratza grinder is very easy to use and has a simple interface with a few clearly marked buttons. There is an ON/OFF switch and a pulse button, both of which give you absolute control over how fine you want your coffee.
As there are 40 grind settings, the ground coffee from the Encore is suitable for several brewing methods. The burrs are made from hardened alloy steel, which gives the grinder a sturdiness as well as finer grind ability.
Key Features:
Dimensions: 4.7 x 6.3 x 13.8 inches
Weight: 6.83 pounds
Manufacturer: Baratza
Pros:
The appliance comes with a warranty, a repair program, and reliable customer service.
Comes apart easily and safely for cleaning, so there is no risk of accidents.
The pulse option makes dispersal much easier and gives you better control over ground size.
Has 40 grind settings and works well for various brewing methods.
Can be connected to other coffee accessories and attachments.
Cons:
You have to manually grind the beans as there is no auto-shutoff feature.
Why Customers Love It:
This coffee grinder is popular because of its elegant design and sheer simplicity. The Baratza Encore is perfect for beginner-level brewers because it does what it says and won't overwhelm you with choices and unnecessary customizations. At the same time, experienced brewers will love it because of how durable and reliable it is.
A Quick Look at the Capresso Infinity
In terms of features and performance, the Capresso Infinity burr grinder is quite comparable to the Baratza Encore. Also known as the Capresso 560 Infinity burr grinder, it has commercial-grade steel burrs with an advanced cutting design.
Like the Encore, it has a variety of grinds and can produce coarse grinds for Turkish coffee, and finer grounds for pour-over brewing. What makes it special? The intense aroma preserves the richness of the coffee beans in a sip of your final product.
Also, the sharp blades and powerful motor creates very little, resulting in a grinder that works much more quietly than similar models. It is also easy to clean and can be disassembled quickly.
It has 16 grind settings, as the focus is on efficiency and simplicity over customizations and endless options. It also works quickly and has an auto-shutoff feature, so you won't have to babysit your coffee grinder.
Key Features:
Dimensions: 14.6 x 9.6 x 7.8 inches
Weight: 4 pounds
Manufacturer: Capresso
Pros:
Very easy to use, making it perfect for new home grinders.
Makes very little noise when in use.
Comes with complimentary tools for cleaning and maintenance.
Sturdy and durable body, so it is suitable for long-term use.
Preserves aroma and body even for the finest grind.
Cons:
Fewer grind settings to choose from.
Can result in a static charge for some brands of coffee beans, which can result in a little mess.
Why Customers Love It:
As far as entry-level coffee grinders go, this one packs quite a punch. It is simple, yet powerful which makes it ideal for use at home and in small office spaces. The auto-shutoff feature and grind settings give you a good deal of freedom when brewing. Also, the design is funky and innovative, which contrasts with the quality coffee grounds it produces.
Baratza Encore Vs Capresso Infinity: How Do They Compare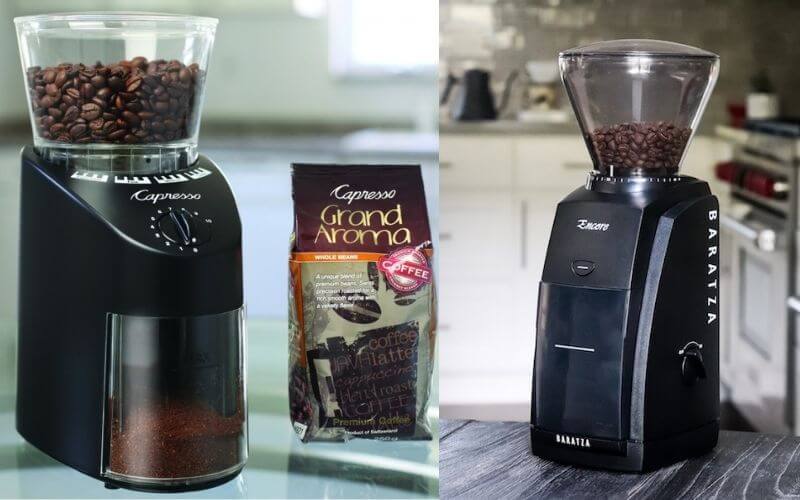 Here's a quick rundown on how the two coffee grinders differ in performance, design, and other factors.
Ease of Use:
It is safe to say that the two are pretty much tied in this category. Both the Baratza Encore and the Capresso Infinity are meant for beginners, which makes them easy to use. They have clear interfaces, labeled buttons and knobs, and just a few straightforward settings that need to be tackled.
Design:
Both of the coffee grinders are well designed and are meant to work for a long time. Each one has a conical bean container while including a different compartment for the ground coffee. Both have heavy-duty plastic chassis that can resist wear and tear.
The Baratza has steel alloy burrs, while the Capresso uses commercial-grade steel. However, they both function similarly and get a fine ground.
Size and Weight:
This one is interesting. While the Baratza Encore is smaller in size, it is actually heavier than the Capresso, which is larger. In spite of this, both are suitable for the average kitchen counter space. If you have very little room, you will prefer the Baratza.
Capacity:
When it comes to the capacity for holding whole coffee beans and their ground counterparts, the Baratza has an 8-ounce hopper and a 5-ounce grounds bin. Meanwhile, the Capresso Infinity has an 8.8-ounce hopper that can hold 4 ounces.
However, the Baratza Encore conical burr coffee grinder with bin feature allows you to add an accessory that gives you an extra 9 ounces of storage. My take? Go for the Capresso if you only drink coffee periodically and have less storage space.
Grind Settings:
This is where the Baratza really gets to shine. It has a whopping 40 grind settings that will cover almost any kind of brewing needs. You can produce anything from a coarse grind to an ultrafine powdery one. This means you grind coffee for French Press, Moka pot, drip coffee makers, and even the pour-over method.
This grinder is designed to run at 250 RPM, but you can manually alter the motor to 200 and 299 RPM to get an even more consistent grind.
On the other hand, the Capresso is more suited for the minimalist brewer. There are 16 grind settings in four categories. It runs at less than 250 RPM, which keeps the motor cool and quiet, but you can't manually adjust the RPMs.
Price:
The Baratza is a little pricier than the Capresso, but it makes sense when you factor in the high-quality burrs, better grind settings, and the fact that you can attach and use extra accessories with this unit.
However, if you want something affordable, the Capresso is a better option.
Performance:
When it comes to grinding power, both units perform very well. They both grind coffee according to your specifications and produce a grind that is just the way you like it. They work quickly and cleanly so there is little mess to clean up.
Coffee made from both the Baratza and the Capresso has a clear and strong taste, a lovely aroma, and brews like a dream. Whether you like your coffee black or with some sort of creamer, hone brewers and pros love the flavor and texture!
Needless to say, it's a tie on this front!
Here are the differences between the two coffee grinders summed up neatly:
| | | |
| --- | --- | --- |
| Feature | Baratza Encore | Capresso Infinity |
| Grind Settings | 40 | 16 |
| Burr Material | Alloy Steel | Commercial Steel |
| Price | More Expensive | More Affordable |
| Ease of Use | ON/OFF and Pulse Buttons | Auto-Shutoff Feature |
| Hopper Capacity | 8 oz. | 8.8 oz. |
| Ground Capacity | 5 oz. | 4 oz. |
| Usable with Accessories? | Yes | No |
Where You Can Get the Baratza Encore and Capresso Infinity
The good news is that you can find both of these coffee grinders pretty easily. Both the Baratza Encore and the Capresso Infinity can be purchased on Amazon. However, you can also order them from the Baratza and Capresso websites.
These appliances can also be found in chain stores like Walmart, Target, and Home Depot. They are easily accessible, so you might even see them at local stores and shops!
Still Got Questions?
Here you'll find answers to questions we get asked the most about the differences between Baratza Encore and Capresso Infinity.
01. Is the Baratza Encore Worth Buying?
Yes, this is an affordable option for both new and experienced home baristas. It is even a good option for small coffee shops and diners, as well as offices. Although it is small, it works very well and grinds coffee according to your specifications.
02. Is Baratza Encore Good for Espresso?
While it isn't marketed as a grinder for espresso, you can grind coffee for espresso with the Baratza. This works best on the ultrafine grind settings.
03. How Long Does the Baratza Encore Last?
The burrs of the Baratza Encore can run for 10 years, and grind over 500 pounds of coffee.
04. Where Are Capresso Coffee Grinders Made?
Capresso's grinders are made and assembled in Switzerland.
05. How Do I Maintain a Baratza Encore?
These steps will help you keep your Baratza clean and functioning properly:
Twist and remove the hopper: First, twist the hopper on top of the grinder. It will come away easily when the nubbins are aligned.
 Remove the top gasket and set it aside: The top gasket is located right at the front of the grinder and can be taken out with your fingers.
 Remove the burr and clean with a brush: Below the top gasket and in the very center of the grinder are the burrs which tend to be the dirtiest. Clean with a brush and wipe away the excess.
Clean inside the grinder: Use the same brush to clean the inside of the machine. However, don't turn it upside down to dislodge any debris.
 Brush away all excess and replace the top: If any loose grounds or dust are remaining on the components, brush them off and wipe down the exterior before putting the grinder back together.
06. Is Baratza made in China?
The burrs are made in Europe and the Baratza grinder is built in Taiwan.
Final Verdict
Most entry-grade coffee grinders work similarly, but the Baratza Encore and the Capresso Infinity are unique because they are also popular among more experienced brewers and baristas. When it comes to a Baratza Encore vs Capresso Infinity comparison, the Baratza comes out ahead with its durability and grind settings.
However, the Capresso can hold down on its own just fine. It works very well and is great for smaller budgets. With all that being said, which one of the two would you prefer using? Or are you looking for a more sophisticated coffee grinder?