Eggs are not as ubiquitous as they used to be in every household. As the number of vegans is increasing – the USA alone has 6% vegans in 2022 – so is the tendency to replace eggs in baking and daily diet.
Once thought of as an essential ingredient for baking, the case is not so anymore.
In this post, we're going to talk about what substitute for eggs in baking banana cakes, cookies, brownies, etc. without dampening the taste, texture, or flavor much.
You may also like: Substitute for Coconut Milk For Your Favorite Recipes (2022)
Why Do We Use Eggs In Baking?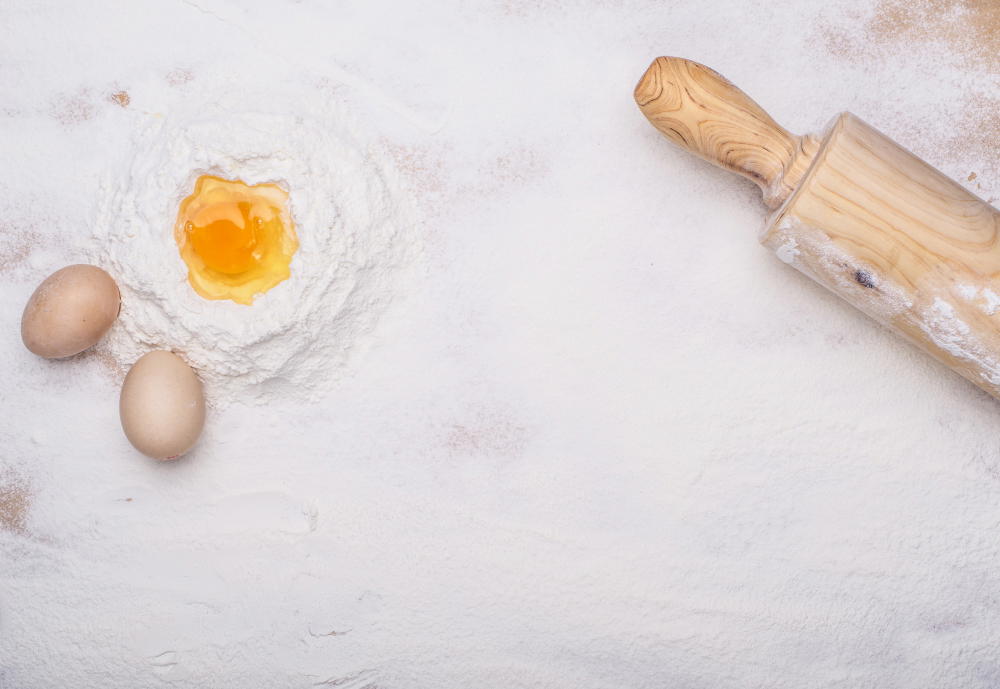 Eggs in baking are mainly used for four purposes.
They act as binding agents that keep all the ingredients together and give it shape.
In baking, eggs function as a leavening agent by trapping air pockets in between the food particles and helping them to rise when heated. As a result, the texture becomes light.
Eggs do have a flavor of their own that adds to the baking ingredients and enhances the final flavor.
The liquid parts of eggs maintain the moisture of the ingredients and prevent the baked foods from getting dried.
Last but not least, eggs help give a golden-brown appearance to savories, puffs, cakes, and pies.
Why Don't We Want To Use Eggs In Baking?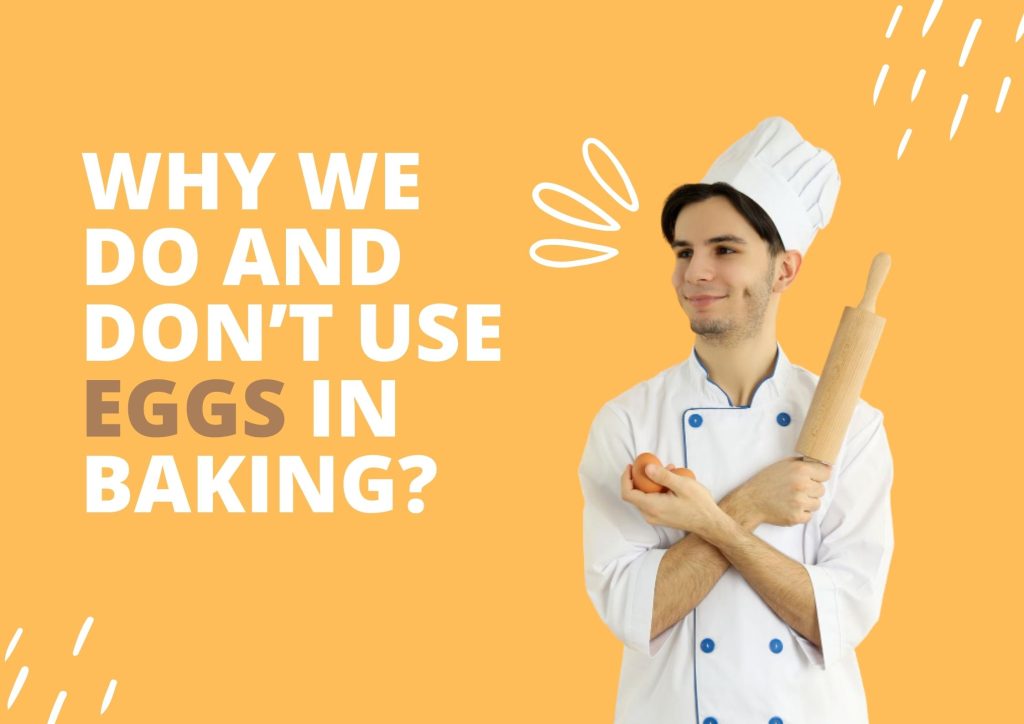 There are a few reasons why we may not want to use eggs in baking.
We may have switched to a vegan lifestyle where we avoid using any foods derived from animals.
Or, we could be allergic to eggs.
There can also be simpler reasons like having run out of eggs or eggs have gone bad.
Whatever it is, it's good to know what is the best substitute for eggs in baking.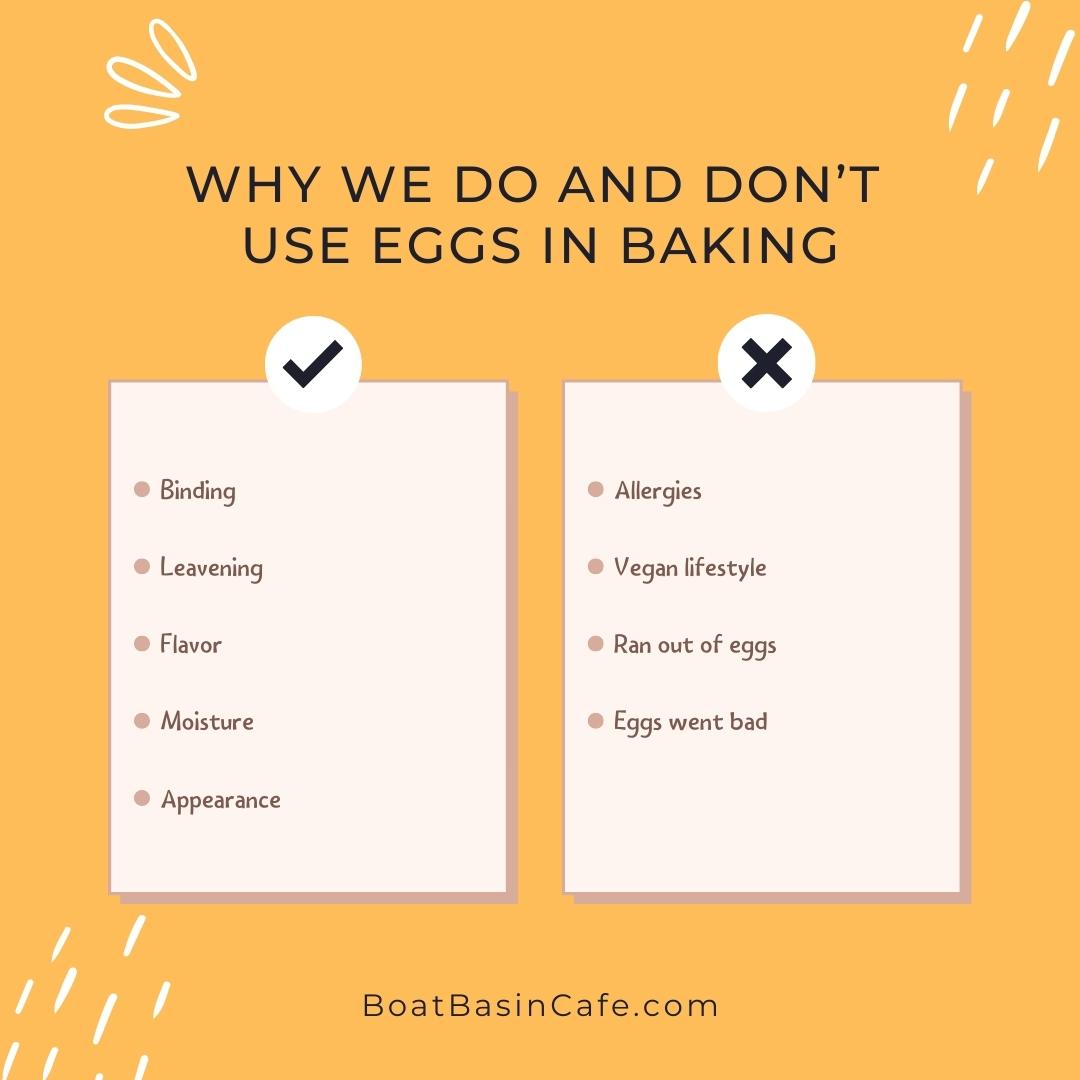 What Substitute for Eggs in Baking?
01. Buttermilk or Yogurt
If you're planning to bake eggless muffins, cakes, and cupcakes, you can use ¼ cup of yogurt or buttermilk to replace eggs.
Remember to use plain yogurt as flavored or sweet versions will change the flavor of the final product.
Use the same proportion of buttermilk as you would yogurt.
In case you're wondering how to make buttermilk, here's the simplest way.
Take a cup of milk (8 ounces or 237 ml).
Add a tablespoon (15 ml) of lemon juice or vinegar.
Stir and set aside for 10 minutes.
Use it as an egg substitute in baking.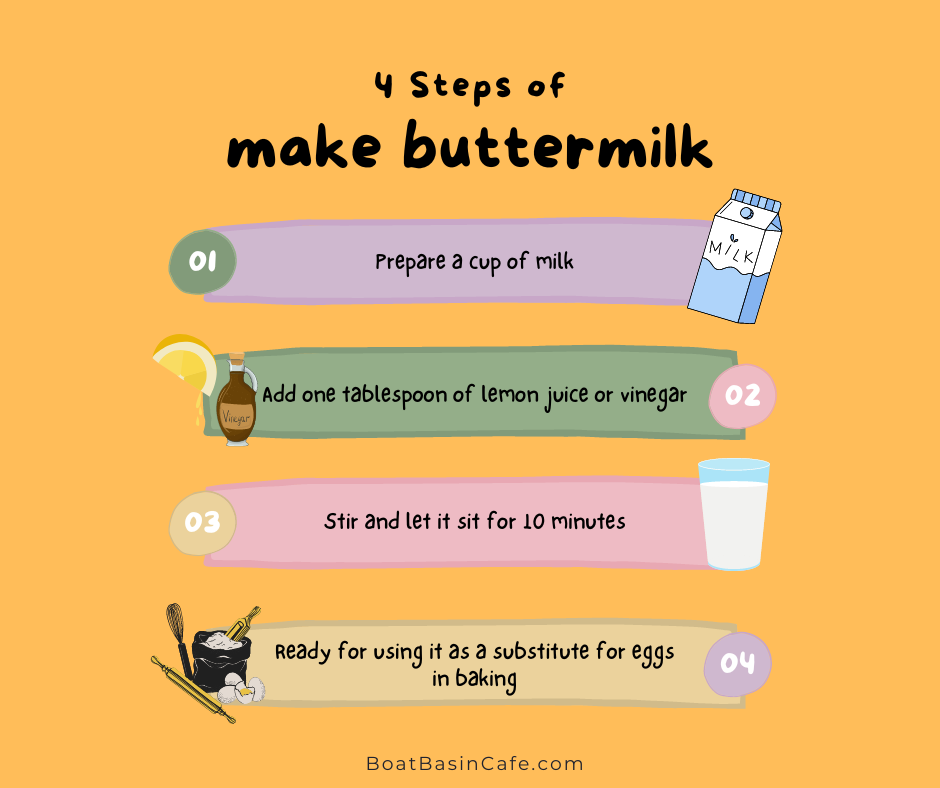 02. Baking soda and Vinegar
You may be confused about what can you use as a substitute for an egg in baking. Don't be!
Just mix one tablespoon of vinegar with one teaspoon of baking soda to make your quick bread and cakes light and fluffy.
The carbon dioxide that's released when the baking soda reacts with the vinegar helps to keep your baked goods airy. To make room for the released gas, you may want to take a large bowl.
03. Ground flaxseeds
Besides having plenty of health benefits, flaxseeds also serve as substitutes for eggs in baking bread.
For every egg, use a tablespoon of finely ground flaxseeds soaked in three tablespoons of warm water for 10 minutes or until all the water is absorbed.
The dense mixture will cause your pancakes, cookies, or waffles to be compact and tight with a nutty flavor.
04. Ground chia seeds
Similar to ground flaxseeds, ground chia seeds are your answer to how to substitute for eggs in baking.
Soak one tablespoon of ground chia seeds in ⅓ cup of water for 15 minutes or until the water gets absorbed.
If you like your muffins, pancakes, and waffles to have a nutty flavor, then ground chia seeds in water is just the answer to eggless goodies.
05. Pureed, silken tofu
Did you know that tofu is the main ingredient for vegan scrambled eggs?
Well, looks like you can also use tofu when you're thinking about substitutes for eggs in baking brownies!
Tofu is made from soy milk that has been processed and pressed. So, if you're allergic to soy, then this isn't the right egg substitute for you.
But if you're good with soy and soy products, just ¼ cup of pureed silken tofu is enough to replace an egg.
As tofu with minimum water content is dense, it's best to use it for baking brownies, cookies, quick bread, as well as cakes.
06. Mashed avocado or banana or pumpkin
Umm, if you're thinking what can you substitute for eggs in baking banana bread, well, the answer is – you guessed it – mashed banana!
But did you know that mashed pumpkin or mashed avocado work equally well as egg replacements in baking? Obviously, you won't get the banana flavor from these. But you'll still get the same moist and dense result.
So, just use ¼ cup pureed avocado or banana, or pumpkin for each egg in your recipe.
Although your brownies, muffins, or cakes with mashed fruit may not brown much when baked, the texture will more than make up for it.
07. Applesauce
You can use cooked apples or applesauce if you want to know how to substitute for eggs in baking.
It's better to use unsweetened applesauce. Otherwise, you should reduce the amount of sugar in the recipe.
Sometimes, cinnamon and nutmeg are added to applesauce. So, when you use it as an egg alternative, you'll have a nutty, warm flavor added to your baked goodies.
It's good to remember that your baked products will be dense when you use applesauce instead of eggs.
08. Egg replacers
Applesauce is the perfect answer to what is vegan substitute for eggs in baking. It's also great for weight-watchers who want a low-fat binder in their cake batter.
There are commercial egg replacers available in both physical and online stores. As the name suggests, they replace eggs in baking and cooking.
These products are made from starch and leavening agents and are found in powder format. If you're using one, read the package instructions for the right mix.
Generally, you need to combine 1½ teaspoons of egg replacer powder with 2 to 3 tablespoons of warm water and set aside until it becomes thick.
As these egg replacers don't have any flavor, they're suitable for all baking recipes.
09. Soy lecithin powder
Soy lecithin powder is found in both offline and online health stores.
As it's a byproduct of soybean oil, it has strong binding properties that make it a popular substitute for eggs in cake mix and other products.
To replace an egg or one egg yolk, take a tablespoon of soy lecithin powder and add it to the dry ingredients.
However, if you're allergic to soy, don't use it as an egg alternative.
10. Aquafaba
We always find canned chickpeas and beans immersed in a liquid. This liquid is called aquafaba and resembles the properties of egg whites.
That's why, aquafaba is the preferred egg substitute in recipes that need a lot of egg whites like meringue, marshmallows, nougat, and macaroons.
Aquafaba results in light, airy, and fluffy baked goodies.
Use three tablespoons of aquafaba to replace one egg.
11. Nut butter
Butter from almonds, peanuts, cashews, and other nuts are good substitutes for eggs in baking.
As nut butter has a nutty flavor, your baked goodies will have it too. So, it's best to use the nut butter in cookies, brownies, banana muffins, choc chip cookies, and pancakes for a warm and subtle flavor.
Three tablespoons of any nut butter can replace an egg in your recipe.
Remember to use smooth nut butter instead of a chunky variant for better mixing.
Before using, make sure you're not allergic to nuts though.
12. Gelatin
Many of you might be wondering how to substitute gelatin for eggs in baking.
It's very easy. Just dissolve a tablespoon of gelatin powder in one tablespoon of cold water. Then add two tablespoons of hot water until the mixture becomes foamy.
Gelatin is derived from animal body parts like collagen and ligaments. That's why it's not a popular egg substitute in vegan baking.
Use unflavored gelatin powder as an egg replacement if you don't want the final baked products to be affected. However, the texture will be stiff as gelatin itself is jelly-like.
Gelatin is more commonly used in desserts like souffle that have a jelly-like texture and consistency.
13. Agar-agar
Agar-agar is the answer to gelatine substitution for vegetarians and vegans as it's extracted from seaweed and has the same consistency as gelatin.
Mix a tablespoon of agar-agar powder with a tablespoon of water to replace an egg in your recipe.
It won't affect the taste or flavor of your dessert but will definitely give it a stiffer texture.
14. Arrowroot powder
Arrowroot is a plant-based extract that's high in starch and therefore, works wonderfully as a binding agent.
Dissolve two tablespoons of arrowroot powder in three tablespoons of water to replace one egg.
Arrowroot helps to give your final baked goodies an airy and light texture. Therefore, use it as an egg alternative in cornbread, cakes, pancakes, and most recipes.
15. Sweetened condensed milk
Condensed milk is made by removing most of the water from cow's milk until you're left with a thick, sticky, sweet semi-liquid form of milk.
Usually, sugar is added when making condensed milk so when you buy a can, it's already sweetened.
Note: You may want to find out the difference between condensed milk and evaporated milk.
Anyway, since condensed milk is quite thick and dense, it's best used as an egg substitute in cookies.
Four tablespoons of condensed milk equal one egg.
16. Sparkling water
Carbonated or sparkling water as a substitute for eggs in baking works in two ways.
First, it acts as a leavening agent and reacts with the baking soda in the batter to trap air bubbles. This makes cakes and bread light and fluffy.
Secondly, sparkling water adds moisture and keeps your waffles, pancakes, and cupcakes from having a dry, dense texture.
Just add a quarter cup of any sparkling water to take the place of an egg.
17. Vegetable oil, baking powder, and water
When you're baking scones or muffins and you suddenly find yourself out of eggs, replace them easily with these kitchen staples – vegetable oil, baking powder, and water.
1½ tablespoons of vegetable oil mixed with a teaspoon of baking powder and 1½ tablespoons of water is a quick solution as an egg alternative for all your baking needs.
Oil is a natural binding agent and when mixed with water and baking powder, it gives a nice, packed texture to muffins and scones.
18. Soy protein powder and water
Although not the most ordinary kitchen staple, soy protein powder could come in handy if you're thinking about how to substitute for eggs in baking.
If you're someone who's into working out a lot, soy protein powder can be there in the cabinet.
A tablespoon of soy protein powder mixed with three tablespoons of water can easily replace an egg for baking purposes.
The soy protein powder keeps the dough moist and results in fresher bread, cookies, and pancakes.
If you're allergic to soy products, please use any other egg substitute from the list.
Here's a table to show you at a glance what to use as a substitute for eggs in baking, the right measurements, and where to use these replacements.
Final Thoughts
Eggs can be easily replaced when you're baking cookies, cakes, muffins, etc. As long as your recipe doesn't ask for using more than three eggs, you can use the substitutes for eggs listed in this article without affecting the flavor and taste.
What substitute for eggs in baking may differ a bit from one baked goodie to another. So, it's good to keep in mind what you're baking and how you want the taste, flavor, and texture to be before picking an egg substitute.
FAQs