Learn the best Kona coffee brands available and how to distinguish between pure and blended Kona coffee so that you are sure to invest in the right brand.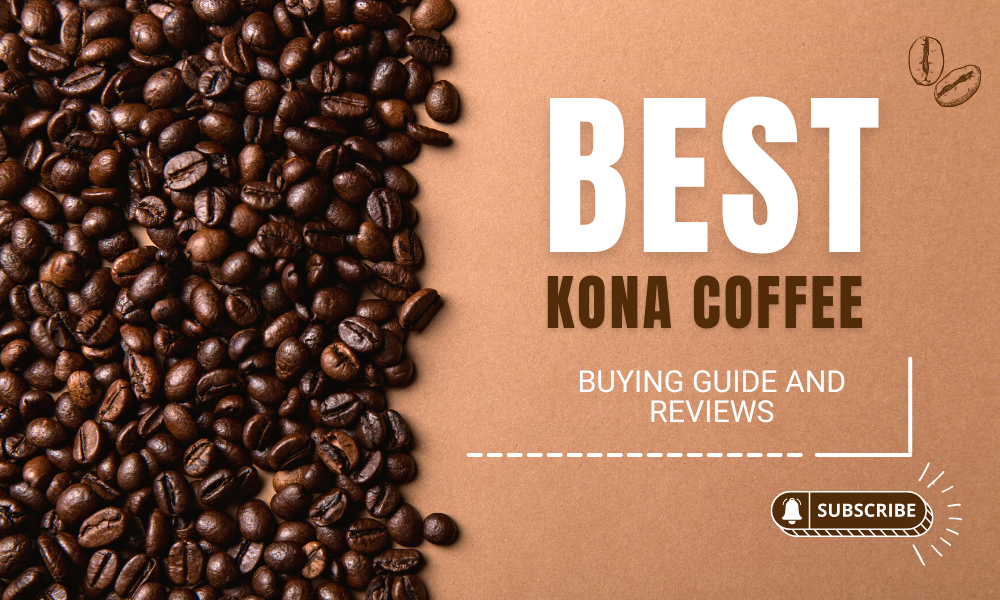 The US does not pop into our minds when we think of coffee.
Coffee plantation is mainly associated with Brazil, Columbia, Ethiopia, and other parts of the world.
But did you know that exclusive and expensive coffee beans are grown here in the United States?
That's right!
The Big Island of Hawaii is home to some of the best coffee beans in the world.
In particular, the Kona region of Hawaii is favorable for growing Kona coffee.
In this post, we will look at the best Kona coffee brands and find out how to distinguish between pure and blended beans.
What Is Kona Coffee?
Kona coffee is premium quality 100% Arabica coffee that is cultivated, collected, and processed in the Kona region that's on the west side of the big island of Hawaii, namely in the Hills of Mauna Loa and Hualalai.
The Kona District is just 30 miles long and 2 to 3 miles wide.
When you see coffee bags with a 100% percent label Kona, that means it is hand-selected from the Kona coffee belt – the region in Hawaii where this specialty coffee is grown.
Typica is the most common variety of Kona coffee.
Arabica coffee is usually grown at an altitude of 6,000 feet.
But you'd be surprised to know that Kona coffee plantations are at an elevation of between 500 and 2,500 feet.
What Makes Kona Coffee Special?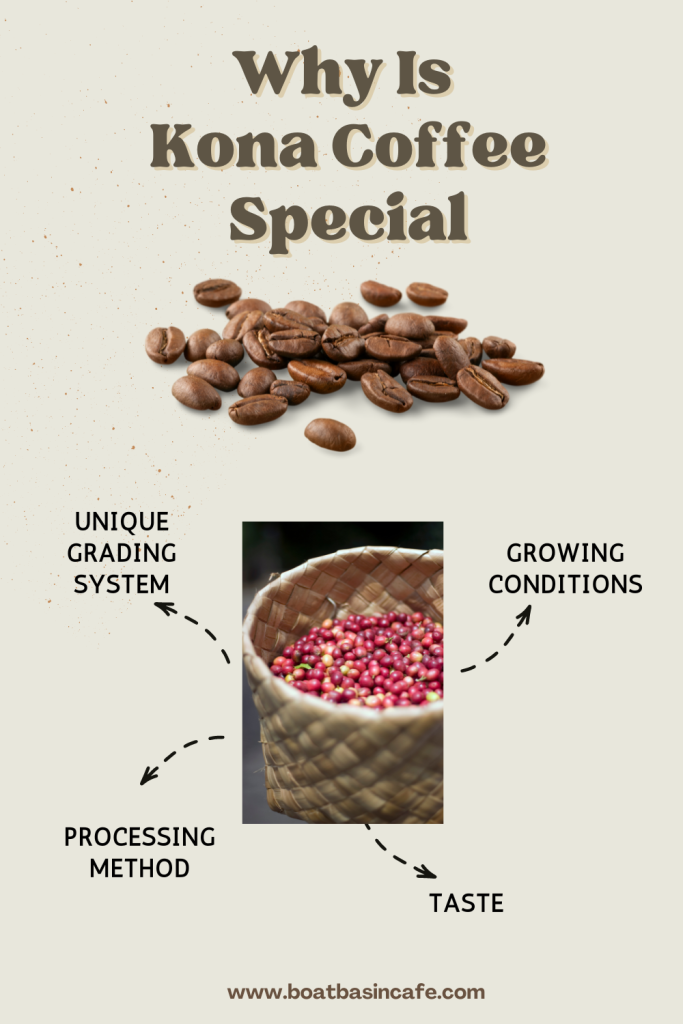 A few factors make Kona coffee special – the conditions in which they are grown, the taste, its own grading system, and the way they are processed.
Kona coffee beans are rare and that makes them unique.
For all coffee plants to grow into the healthiest plants and yield healthy fruit and seeds, they require specific weather conditions, elevation, rainfall, and soil quality.
A region of Hawaii known as the "coffee belt from Kona" is where you will find all these conditions fulfilled, thanks to the nutrient and mineral rich volcanic soil, the right balance of sunlight and shade, and the right amount of rainfall.
These qualities make Kona coffee one of the most prized in the world.
Moreover, the best Kona coffee plantations are not typical commercial ones.
You will find only about 600 farms that grow coffee in the Kona district.
Each farm is about five to seven acres, and most are run by families.
As a result, the care given to the process of growing and harvesting the best Kona coffee is unparalleled.
The coffee fruit undergoes quality control procedures before being harvested.
Fruit that is either too ripe or not ripe enough is rejected.
They are next prepared to extract the seeds, and once more, any seeds with flaws are eliminated.
This guarantees that you only receive the best Kona coffee beans.
The majority of beans are washed and sun-dried.
To get the beans to the green bean stage, the farmers' machine hulls them.
Hawaiian coffee is graded differently.
The agriculture department of the state of Hawaii produced stringent regulations and created specific categories of coffee to differentiate between grades.
Extra Fancy, Fancy, Number 1, Select, and Prime are the top five categories based on the size and the number of faults.
How Does Kona Coffee Taste?
A sweet aroma will greet you when you sip your cup of the best Kona coffee.
Depending on the farm it originated from, the coffee can have notes of berry or vanilla or citrus.
The mouthfeel is one that's velvety smooth.
With a low acid level, Kona coffee is a great choice for those who don't like their coffee strong but want a well-balanced taste.
You won't have any of a bitter aftertaste and that's what makes this coffee so unique.
The medium-body coffee tastes light, clean, and well-balanced.
In terms of aroma, you will get a rich one and it can vary from spicy and buttery to floral and fruity.
You will get undertones of caramel, chocolate, or nutty flavors depending on the roast.
Best Kona Coffee Brands
Have we got you interested enough in Kona coffee?
Let's look at the best Kona coffee brands you can buy online to start your journey to discovering exquisite coffee.
01 kona peaberry: Medium Roast
This is available in both medium and dark roasts and if you're looking for a premium Kona coffee brand of the best quality, this is it.
Lovingly called "the Champagne of Kona coffees", peaberry is not easily available.
Two coffee beans are typically nestled face-to-face inside coffee cherries.
Coffee beans are flat on one side because of this.
But when only one tiny oval-shaped bean rather than two flat-sided beans are present in coffee cherries, these are called peaberry beans.
Simply because of the way nature crafts peaberry Kona coffee, it is rare.
Only 3 to 5 bags of Kona coffee will be Peaberry for every 100 bags – a bare 3-5%.
Koa Coffee was founded in 1997 as a family business.
The hand-picked Koa Kona coffee has garnered numerous awards over the years, including the prestigious Gevalia Cupping Competition, PCCA Coffee of the Year, Forbes "Top 10 Coffees of the World," and "Best Coffee in America" in Forbes' "50 of America's Best."
Due to high demand, you won't get Koa Coffee Peaberry variants easily and if you want to have it regularly, it's better to opt for a subscription.
Features:
Smoother feel with a lighter, fruitier, and sweeter taste than other Kona coffees
Rich and full-bodied for the best experience
Low acidity
Handpicked instead of mechanical harvesting that might mix unripe cherries with the red ripe ones
100% best Kona coffee
Check price here.
---
02 Koa Coffee Kona Tri-Pack
This is a great deal as you get three different variants of Kona coffee in one package – Grande Domain Kona, Private Reserve Kona, and Estate Kona.
If you are new to the Kona coffee variety, this is a good way to weave in your way to the best Kona coffee.
This makes a great gift too for coffee connoisseurs and it also saves a bit of money as you're getting a bulk pack.
The Grande Domaine Kona has the winner of the Coffee Cupping Contest under its belt, thanks to its well-balanced taste and high quality.
While you get the whole beans in the Tri-Pack, you can buy its ground form separately.
The roast is a light-medium Viennese to give you the best of its unique flavor and taste.
The Private Reserve Kona is not far behind in terms of accolades.
It won Forbes' "Best in America" award.
You get the medium roast whole beans in the Tri-Pack but you can also order ground medium-roast or dark roast whole beans pack.
Last but not least is the Estate Kona which hails from higher elevations of the volcanic slopes of Mauna Loa.
It comes from a single estate or coffee farm, ensuring consistency in taste and quality.
You can try these coffees either with or without milk.
To get the optimum flavor from the medium-roast beans, try them in a French press or as a pour-over coffee.
Features:
Rich and smooth Grande Domaine
Luxurious and medium roast Private Reserve
Carefully cultivated, harvested, and medium-roasted Estate
8-ounce packs of highest grade Kona coffee
Clean and sweet flavor profile
---
03 Volcanica Hawaiian Kona Extra Fancy
Undoubtedly, one of the highest-grade and most expensive Kona coffee brands, it is a luxurious and medium roast coffee.
Its full-bodied and rich taste complements the floral and fruity tones of jasmine, cherries, citrus, and caramel, providing you with an unforgettable sweet experience with a dash of tartness.
This low-acid coffee with a pH balance of 5.2 ensures there is no bitter aftertaste.
Shade-grown on the rich volcanic soil at high altitudes of Aloha Farms, Volcanica Hawaiian is both Kosher and the State of Hawaii certified.
Only after you place your order will the beans be roasted so that you get the best aroma of the freshest beans in a premium blue velvet bag.
Features:
Best grade of 100% Kona coffee beans
Vibrant floral-fruity taste
Single-origin for maximum consistency
Low acidity and zero bitterness
Shade-grown for optimum flavor
Check price here.
---
04 Volcanica Kona Peaberry
The Volcanica Kona Peaberry coffee is for those who prefer a stronger cup of coffee.
Coming from the same company as the Volcanica Hawaiian, this variant consists of peaberries and is naturally more flavorful and rich.
Cultivated in microclimates and volcanic soil, these Kona coffee beans are known for having a distinct taste.
The peaberries are washed, sun-dried, and processed to give you the best-flavored cup of coffee with a smooth mouthfeel and a deep, luxurious, and nutty flavor.
These best Kona coffee beans are roasted right before it's shipped to you to preserve their wonderful aroma and taste.
In 2006, the Food and Wine magazine listed Volcanica Peaberry Coffee among the Top 10 Coffees.
This is another low-acid coffee with a pH value of 5.2 so that there is no bitter aftertaste to spoil your experience.
To enhance the whole experience, the company ships this coffee in a blue velvet bag.
Features:
Peaberry coffee beans for a rich taste
Concentrated flavor
Orange blossoms and cherries aroma with undertones of chocolate and roasted almonds for warm, fruity, and nutty vibes
Prime grading
Certified by the State of Hawaii
---
05 The Hawaii Coffee Company Royal Kona Coffee
With a long and rich history of growing coffee tracing back to 1969, the Hawaii Coffee Company is one of the best Kona coffee brands in the industry and is the parent company for many Hawaiian coffee and tea brands.
The company's founders promised to purchase all of the coffee crops from the Hawaiian growers.
The green cherries on the plant are always left to fully mature before being plucked by hand.
The company is supposed to be the largest roaster of Kona coffees and they have their own coffee mill at Captain Cook.
Sourcing Kona beans from their own farms, the company ensures you get the best light roast Kona coffee.
Therefore, Royal Kona coffee is for those coffee drinkers who like their coffee mellow and sweet.
Even their medium roasts are lighter than other medium roast brands.
The fruity, clean, and bright flavors make this a darling among many coffee connoisseurs.
You can best enjoy this light coffee using the pour-over method of brewing.
The company can ship either whole beans or ground coffee as per your request.
They will roast the coffee beans once your order has been placed.
Features:
Light roast
Mellow and fruity flavor
Clear taste
Extra Fancy grade
Single-origin, authentic Kona coffee cultivated at high altitudes
---
06 The Hawaii Coffee Company Whole Bean Peaberry Medium Roast
Coming from the same company, the Peaberry Royal Kona is a medium roast that gives you a cup that tastes sweet with a rich and smooth feel.
The compact shape of the peaberry Kona beans allows this coffee to be uniformly roasted so that every cup has a consistent flavor and taste.
To get the most out of this coffee, use a French press or drip coffee machine and have it black without milk or sugar.
Features:
Medium roast
Sweet scent
Rich and smooth texture
100% Kona coffee beans
---
07 Kona Kulana Farms Dark Roast Coffee
Two times winner of the Gevalia Kona Cupping Classic Competition, Kona Kulana Coffee is a well-balanced coffee that is low in acid.
Hailing from a single-estate farm, this Kona Kulana dark roast coffee is consistent in its flavor, taste, and texture, giving you a cup of smooth coffee full of the natural aroma of Kona beans.
A subtle suggestion of cinnamon, brown sugar, and lavender combine to create an exquisite taste.
Grown at 2,300 feet in the Kona district, Kona Kulana coffee is carefully hand-picked and roasted at the right temperature to ensure your cup of coffee is fresh and rich.
Features:
Grown at a high altitude of 2,300 feet for better flavor
Rich and smooth taste
Exquisite flavor bouquet
---
08 Blue Horse Kona Coffee
With certification from the State of Hawaii, you are sure to get 100% authentic Kona coffee beans from this brand.
It's a single-origin medium-roast Kona coffee that gives you dark and deep flavors each time you brew a cup.
Organically grown, these coffee beans are carefully selected manually and naturally dried in the sun before getting roasted.
You get a medium to dark roast that's a bit oily and hence, more flavor on the surface of the beans.
For the perfect gourmet coffee experience, you can indulge in Blue Horse Kona coffee which offers a rich and luscious aroma paired with tones of chocolate, caramel, and spices.
Features:
State-certified for authenticity
Dark and rich profile
Single-estate for consistency
Organically grown, handpicked, and washed with rainwater for the best flavor profile
Dark roast for bolder flavors of spices, chocolate, and caramel
---
09 Keala 100% Kona By Bean Box
Although Keala's Hawaiian Coffee is cultivated in Honolulu that's part of the Big Island, a Seattle-based roaster – Bean Box – takes the roasting responsibility.
Roasted in small batches to ensure the highest quality and freshness, Keala Kona Coffee has the Extra Fancy grading, signaling its premium standards.
This medium roast coffee gives a cup of fruity and vibrant aromas redolent of passion fruit and toasted coconut.
Features
Vibrant and fruity notes
Balanced flavor profile
Medium roast
Why Is Kona Coffee So Expensive?
Due to their scarcity and high production costs, Kona coffee beans have an astronomical price tag.
It has to be grown in a particular region in order to be referred to be 100% Kona.
Price increases when supply is insufficient to meet demand.
The cost of production is another reason why Kona coffee is so expensive.
The majority of coffee is farmed in underdeveloped nations where labor is inexpensive.
But in the US, the labor costs are significantly higher than they are in other coffee-producing regions since Kona beans are farmed in the United States.
Kona Coffee Buying Guide
You should consider a few factors before ordering Kona coffee online so that you won't be short-changed and left underwhelmed about one of the best coffees in the world.
There are a lot of scammers out there that sell low-quality coffee in the guise of "Hawaiian coffee" or use low-quality beans to mix with only the minimum percentage of Kona beans to claim the coffee is from the island.
The Blend
Don't fall for Kona blends that do not specify the percentage of Kona beans in the blend.
The law in Hawaii sets a maximum limit of 10% Kona coffee in blends.
So, that's a really low percentage and the rest of the coffee could be made up with other low-quality coffee beans, giving you the worst taste of Kona coffee.
If you're not buying from the US, it's likely that you'll end up investing in a coffee that is not Kona at all, or if there's a trace of it, it could be 10% or less.
"Taste of Hawaii" and "Kona-style beans" are traps that will take you down the wrong path.
Check the label and make sure the coffee you want to buy comes from Hawaii and contains 100% Kona coffee beans.
Kona Vs Hawaiian Coffee
Kona coffee is from Hawaii but all Hawaiian coffees are not from the Kona region.
The Kona district is the only region in Hawaii that's ideal for growing top-notch coffee.
In other parts of Hawaii like the islands of Maui, Molokai, Kauai, and Oahu, there are coffee farms.
But the coffee from these plantations cannot be compared to the original Kona coffee beans because the growing conditions are not the same.
Each of these areas has a distinctive logo that identifies the region where the coffee was grown.
A more general umbrella 100% Hawaiian Coffee trademark logo is also used.
When you want to buy Kona coffee, look for these symbols.
If you see them, then these are not 100% Kona coffee brands.
Coffee Grading
Another factor to consider before buying Kona coffee is the grading of the coffee as defined by the state of Hawaii.
There are two types or categories of coffee from Hawaii – Type I and Type II.
These are based on the moisture content, size, shape, rarity, and defects in the beans.
The size of the beans is of particular importance as this affects the flavor development and also acts as an indicator to roasters to get even roasting of the whole batch.
The bean size also impacts the grind which has a direct impact on the over or under-extraction of the coffee, which ultimately affects the coffee strength.
Type I coffee beans are normal coffee beans.
Type II is not normal coffee beans but peaberry beans which are a natural mutation in the coffee tree that results in each pod having a single bean inside, not two like in the normal coffee pods.
These peaberry beans pack more punch in each bean and are more flavorful than their normal cousin, making them more coveted and driving up their price.
Both types are categorized as Extra Fancy, Fancy, Number 1, Select, Prime, Number 3, Natural Prime, and Mixed Natural Prime.
The top grade of Kona coffee falls in the first three categories.
Extra Fancy is the best quality Kona coffee bean with the following features:
Uniform color
No defects
Premium roast quality
8 defects per 300 grams
Type I is a size 19 and Type II is a size 13
Fancy is the next grade with the below attributes.
Uniform color
Good roasting quality
12 defects per 300 grams
Type I is a size 18 and Type II is a size 12
Number 1 grade has the following traits:
Uniform color
Above-average roasting quality
18 defects per 300 grams
Type I is a size 16 and Type II is a size 10
Now starts the lesser categories.
Select has the following features:
Good flavor and aroma
5% defects of the total weight allowed
Prime has the following features:
Good flavor and aroma
20% defects allowed
Number 3 has more defects than Prime but the same clean aroma and flavor are mandatory.
Natural Prime allows up to 20% defects and there are no rules in place as to the color uniformity or roasting quality or size.
Mixed Natural Prime is almost the same as Natural Prime and is considered to be Kona coffee of the lowest quality and is used in blends.
In terms of moisture content, 9–12% moisture from Extra Fancy to Hawaii No.3 is allowed.
A greater range – from 8-13% – for Hawaii Natural Prime and Hawaii Mixed Natural Prime is permitted.
As you can probably tell, a higher moisture content connotes coffee beans of lower quality.
KCC Seal Of Approval
The Kona Coffee Council (KCC) was founded by a group of Hawaiian coffee farmers in the Kona area.
The organization was founded in 1985 to defend and advance the 100% Kona label.
The Council certifies both green coffee and roasters.
Therefore, look for the KCC seal of approval on the packaging before you decide to buy.
FAQs
Why Is Kona Coffee So Special?
The conditions in which Kona coffee is cultivated, the rarity of the beans, the aromatic and sweet taste, and the grading system that is only used in Hawaii make Kona coffee special.
What Is The Most Popular Coffee In Hawaii?
Kona is the most popular coffee in Hawaii. 
Where Is The Best Kona Coffee Grown?
The best Kona coffee is grown on the hills of Mauna Loa and Hualalai.
Is Kona Coffee Strong?
No, Kona coffee is not strong.